Trinity Services celebrates National Disability Voter Registration Week
7/23/2019, 9:48 p.m.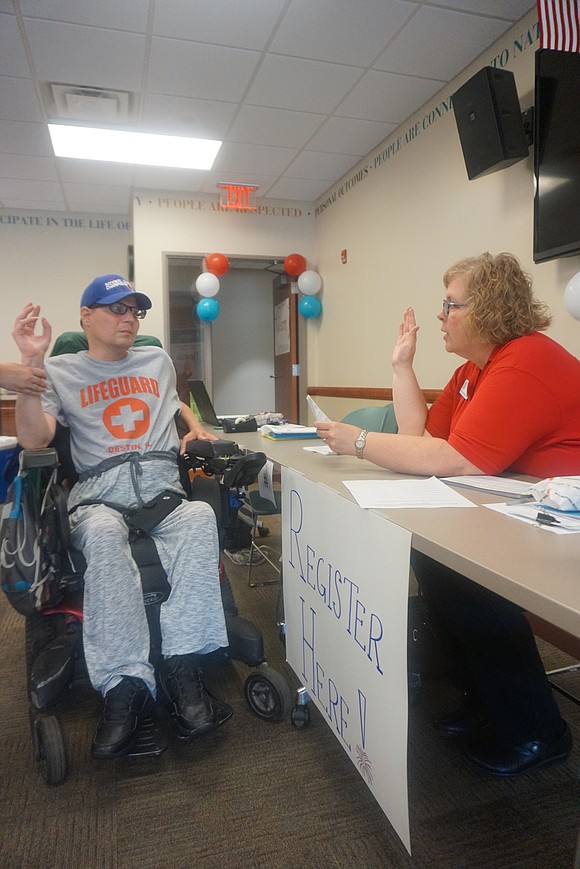 New Lenox - Trinity Services, Inc. and Will County Clerk Lauren Staley Ferry's staff helped register more than 40 people to vote, in person and through mail-in registration, Wednesday, July 17, at a National Disability Voter Registration Week Open House at Trinity's central office in New Lenox.
The open house was sponsored by Trinity Services' Advisory Committee, which is composed of people with developmental disabilities who receive support from Trinity.
At the event, people stopped by the registration station, where they could meet with Carol Schneider, an election analyst at the Will County Clerk's Office who registered participants to vote in next year's presidential election. From there, they picked up a mock ballot and took it to voting booths, generously supplied by the Will County Clerk's Office, to decide the best automobile manufacturer, best vocal artists and best ice cream flavor.
Voters dropped their ballots into a ballot box and went on to pick up a Trinity Services-specific ballot on which they could indicate which issues were most important to them and which types of services they would like to see in regards to recreation, health, education, vocation and more. More than 60 people supported by Trinity participated in this in-house election.
"My heart was full," said Jen Klouse, director of admissions for Trinity Services and chairperson of the organization's Advisory Committee. "One of the greatest things we can do is provide meaningful opportunities and experiences for people. The smiles and reactions of people is something you can't put into words."
Klouse added that witnessing Trinity staff members helping people fill out ballots and navigate the Open House was beautiful, as was seeing how proud people were about gaining voting knowledge and experience.
This Open House was also meant to get people excited about participating in their next election. In Will County, the next election is the Presidential Primary on March 17, 2020.
This is the first event of this kind that the Will County Clerk's Office has participated in for people with developmental disabilities. County Clerk Staley Ferry said she looks forward to a continued partnership to assist voters with disabilities.
This is also the first event of its kind that Trinity Services' Advisory Committee sponsored for people receiving support.
Trinity Services, Inc. is a 69-year-old, nonsectarian, nonprofit organization dedicated to helping children and adults with developmental disabilities and mental illness flourish and live full and abundant lives. Trinity serves roughly 3,500 people in more than 30 communities in northeast, central and southwest Illinois. To learn more, visit www.trinityservices.org.