Joliet Polar Plunge & Donut Dash to benefit Special Olympics
3/4/2019, 10:09 p.m.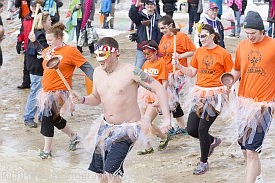 thetimesweekly.com
Joliet - Polar Plungers will brave the frigid water at Leisure Lake in Joliet, on Saturday, March 9, 2019. The funds raised from the Law Enforcement Torch Run Polar Plunge® will benefit the athletes of Special Olympics Illinois. The Joliet Plunge will take place at Leisure Lake- 21900 SW Frontage Rd, Joliet, IL 60404. Registration is at 10:00 a.m. The plunge begins at 12 (noon).
All Polar Plungers are required to collect a minimum of $100 in donations. People are encouraged to come in costume and to form teams. Each team must consist of a minimum of five plungers and each team member must raise the minimum of $100 in donations.
Plungers will receive incentive prizes based on the amount of money they raise. By raising the minimum of $100, you will receive an official Plunge hooded sweatshirt. Sweatshirts will be available on a first come, first serve basis the day of the plunge. All individuals who do not receive a sweatshirt or other incentive level prizes will be mailed a corresponding prize in April.
This is the 20th Anniversary of the LETR Polar Plunge. Over the last 20 years, more than 72,500 plungers have raised more than $20.6 million. Plungers are invited to join the conversation and share why they are #FreezinForAReason on Facebook, Twitter, and Instagram.
Donut Dash: The Polar Donut Dash 5K will be held in conjunction with the Joliet Polar Plunge. This is the only 5K around that not only tests your speed but your ability to eat donuts. Participants will be treated to multiple donut stops along the route and will receive a minute deduction from their overall time for each donut they consume along the course. Awards will be given to the top three individuals in each age category.
Participants can register for the Plunge at www.plungeillinois.com or by contacting Patty Welsh at 708-929-2113or pwelsh@soill.org