Bang Bang Burgers
5/28/2019, noon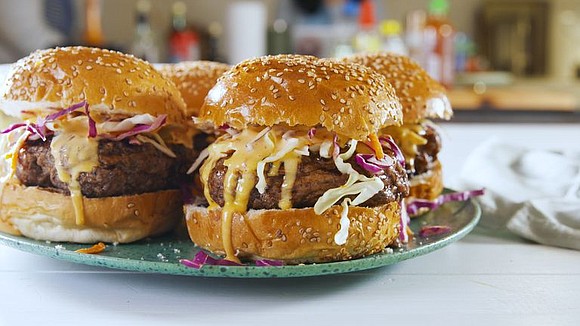 SERVINGS: 4 / TOTAL TIME: 30 MINS
INGREDIENTS
1 lb. ground beef
Kosher salt & ground black pepper
3 tbsp. extra-virgin olive oil
2 tbsp. sweet chili sauce
1 tbsp. honey
1 tbsp. sriracha
Juice of 1 lime
1/3 c. mayonnaise
2 c. slaw
4 hamburger buns
DIRECTIONS
Form beef into patties and season all over with salt and pepper. In a medium bowl, whisk together oil, sweet chili sauce, sriracha, honey, and lime juice.

In a separate bowl, combine half the chili sauce mixture with the mayonnaise. Reserve remaining sauce for basting on burgers.

Heat a grill pan, large skillet, or grill over medium-high heat. Add burgers and grill until charred, about 4 minutes. Flip and cook until cooked to your liking, about 4 minutes for medium, basting the burgers with the sauce throughout the process.

Place burgers on bottom buns and top with slaw and drizzle with mayonnaise mixture. Replace top buns and serve immediately.