Family making a difference giving back
Madhu Mayer-mm@thetimesweekly.com | 11/6/2019, 3:39 p.m.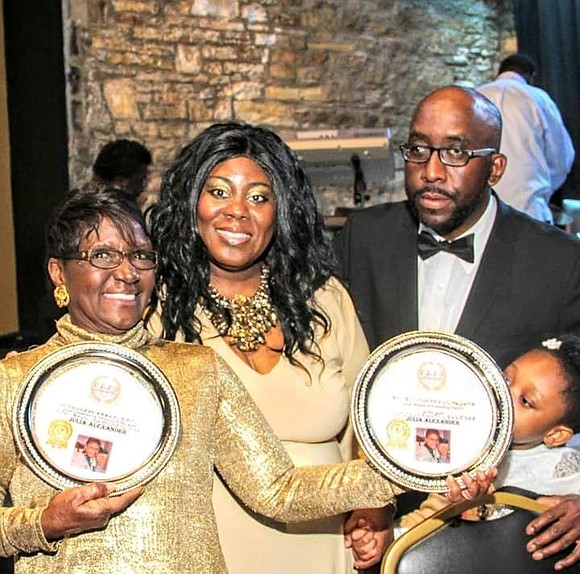 Seeing the difference their mother made to the lives of people in Joliet and surrounding areas has prompted her children to make sure no one ever forgets the importance of giving back to the community.
Earlier this month, I've Been Mended (I.B.M.) Inc., along with daughters of the late Pastor Ethel P. Sims, gave out awards and recognized individuals who encourage positive acts of kindness in the Joliet area. Residents selected nominees and their votes determined the winners. More than a dozen people were honored for their contributions. Winners were recognized in business, fine arts and community service.
Daphney Sims-Washington, founder and CEO of I.B.M., said the award, established in 2017, is named in memory of her late mother, Pastor Ethel P. Sims, who offered Christian counseling and many other services free of charge in the community. Sims died in 2002.
Sims-Washington said her mom founded a not-for-profit organization in 1975 and operated it until she became ill. During her tenure, she fed the hungry, gave clothes, money, cars and provided shelter to the impoverished. Besides caring for eight children after her husband died, Sims-Washington said her mother also took in foster children and had a show on WJOL-AM (1340) radio station.
While there were many awards given out during this year's ceremony, the winner of the Humanitarian of the Year Award was the Rev. Herbert Brooks Jr. and Julia Alexander was bestowed the I.B.M P.E.P.S. Media Outlet of the Year and Community Service of Year Award.
Sims-Washington said the duo was honored because of their spirited commitment to bettering the lives of Joliet residents. "You always see Julia on the scene," said Sims-Washington about the Joliet staple who has been a volunteer with Joliet Community Television since 1995. Besides doing shows highlighting Joliet on the local cable access channel, Alexander also worked as an early childhood educator and owned a hair salon business for 30 years. "She gives her face and voice to everyone."
As for Brooks, pastor of St. John Missionary Baptist Church in Joliet, Sims-Washington considers him a family friend. He is also a Will County Commissioner representing District 8 for more than 15 years. "He regularly gives free clothes and food to the community," she said. "He was my mom's friend. He also allows people in the community to hold services in his basement. He lets people utilize the church."
Besides their awards from P.E.P.S., Brooks and Alexander were also presented with proclamations from State Sen. Pat McGuire (D-43rd District) for their continued commitment serving the people of Joliet and Will County.
Sims-Washington said she is glad her family can continue her mom's legacy. "My mom reinforced the spirit of giving," said the woman who started her own philanthropic organization with income tax money. "We were not rich, but she raised us and several foster children."