Wine of the Week: Main Street Gateway to the Holidays
One of the early signs that the Holidays are just around the corner is the Mainstreet Wine and Spirits Wine and Food Fall Gala. The 2019 edition was one of the most comprehensive and enjoyable wine and food pairing events of the year. Held at Bella Banquets on LaGrange Road in Countryside, it was not only an opportunity to catch up with old friends and fellow oenophiles, it was also an opportunity to sample some of the best that the area has to offer.
A special VIP pre-event tasting afforded more than a hundred lucky attendees the opportunity to sample nearly a hundred limited edition and rare wines, among them the superb Ridgeview Bloomsbury, English Sparkling Wine ($44.99), 2013 Amapola Creek Cuvee Alis by famed Sonoma County vintner Richard Arrowood ($47.59), Keenan 2015 Spring Mountain Cabernet from Napa Valley ($43.99), Champagne Collet, Brut Art Deco from Ay, France ($44.99) and Smith Woodhouse 20yr Tawny Port ($59.99).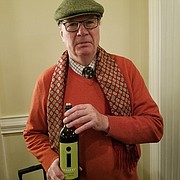 The more than 200 attendees got to nosh on some superlative bites from the areas finest restaurants, including Mini Wagyu Meatballs (actually, not so mini at all!) from fourteensixteen new American craft bistro, 14 W. Calender Avenue, LaGrange, scrumptious Short Rib Sliders from Steak + Vince, 37 South LaGrange Rd., La, a superb assortment of holiday Bundt cakes from Nothing Bundt Cakes, 30 N. LaGrange Rd, terrific Spanish Tapas from legendary Emilio's Tapas, 4100 Roosevelt Rd., Hillside, delicious Pulled Pork and spicy Chicken Tacos from Cafe Salsa Mexican Grill and Tequila Bar, 9932 W,. 55th St. LaGrange, terrific thin crust Italian blend cheese, and pizza with homemade sausage from Ledo's Pizza and Find Food, 5525 LaGrange Rd., Countryside, a terrific assortment of cocktail sandwiches (Ham and homemade biscuit with honey mustard sauce was my favorite) and assorted cheeses, pickled treats and meats and crudité from Bella Banquets, site of the Fall Gala on 5412 LaGrange Rd., Countryside, and the world's best Wedding Cake from Taste of Home Catering, 5819 S. Madison, Hinsdale. Attendees at the Gala received special pricing for day of event only, but there are many terrific Holiday bargains to be had at mainstreetwine.us.