Jazz At Lincoln Center Ogresse, Cecile McLorin Salvant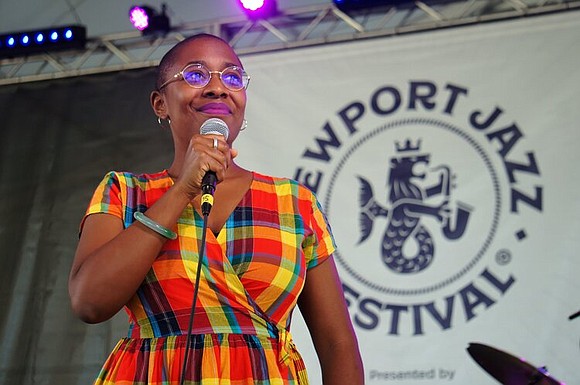 Multi Grammy Award winning musician and vocalist Cecile McLorin Salvant's Ogresse presented in Jazz at Lincoln Center's Rose Theatre September 2019 was an expansive one-woman oratorio that explored the taboo scenario of the female artist as both predator and poet. The title 'Ogresse' refers to a concept in medieval lore of a female monster, which is barbarous, ugly and cruel and also feeds on human flesh. The image is echoed in the lore of Africa and the Caribbean.

Salvant was involved with music since childhood. Born and raised in Miami of a Haitian father and French mother, she began classical piano studies at the age of 5 and soon developed an interest in classical voice. In 2007, Cecile moved to Aix-en-Provence, France to study law. She also studied classical and baroque voice at Darius Milhaud Conservatory. It was there that she began learning about jazz and sang with her first band.
By 2009, she had recorded her first album, 'Cecile' and in 2014, she won the Thelonius Monk completion. In 2014, she was nominated for a Grammy for her second album, 'Woman Child.' Her next two albums, 'For One To Love' and 'Dreams and Daggers' won Grammy Awards for Best Jazz Vocal Album. She won her third consecutive Grammy Sunday, February 10th, 2019 at the Staples Center in Los Angeles for her 2018 Mack Avenue Records release,' The Window. ' Ogresse is now on world tour.
Ogresse is a suite of songs expressed over 90 minutes with an orchestra of strings, woodwinds, brass and percussion, with added piano, melodica and organ from her long-time collaborator, the superb pianist, arranger and composer Aaron Diehl. Ogresse was created as collaboration with the esteemed Vancouver-born and Brooklyn based composer, conductor and arranger Darcy James Argue.
The orchestra and soloists are co-equal storytellers, with penetrating solos from Warren Wolf on vibraphone and marimba and Diehl on the melodica and the organ. The internationally acclaimed MIVOS Quartet augments the orchestra.
Ogresse takes no prisoners. Salvant's svelte physique and elegant self-designed gowns in no way divert attention from the laser-sharp observations in her unflinching words.

Audience members were provided with a hand-written libretto of her lyrics, complete with her own drawings illustrating their powerful message.
Musically, Ogresse touches upon multiple musical genres. It moves blithely from jazz, to roots music, bluegrass, country, ragtime, dirty blues, and even French 'chansons' (one of which translates to a macabre recipe for a 'beautiful breast stew.' It doesn't specify breast of what or whom!). As you can imagine, Ogresse never ceases to surprise.
"There's a woman, Lived in the woods...Her skin was chocolate brown…" she beings, laying out the premise of her character. The following song reveals "The shadow tried to put me in his mouth.... I opened wider, I bit his head off." Salvant declares she is a force to be reckoned with.
In the course of her seamless vocal dissertation, Salvant reveals layer upon layer of her multi-faceted personality as lover, aggressor, victim and perpetrator.
It is love, first approached cautiously, that finally wins her over. "He had broken her down, By kissing the ground at her feet, By singing her songs, slow and sweet."
It doesn't end there, as the poet/predator begins to emerge. "She poisoned him, when she ate him." Even then, her journey ends in a contradiction. "But when they reach the place in the woods where the ogresse lived. They saw something else. A great hill covered in flowers, a great hill, covered in snakes."
Ogresse is disturbing and uncomfortable, yet beautiful to listen to. Almost hypnotic in its delivery it posits the theory that the appealing and the grotesque often exist simultaneously and our ability to discern the difference between the two depends upon our point of view at any given moment. Ogresse reflects life's kaleidoscope. For upcoming Jazz At Lincoln Center events, visit jazz.org.