Student winners named at Joliet District 86 spelling bee
11/14/2019, 1:18 p.m.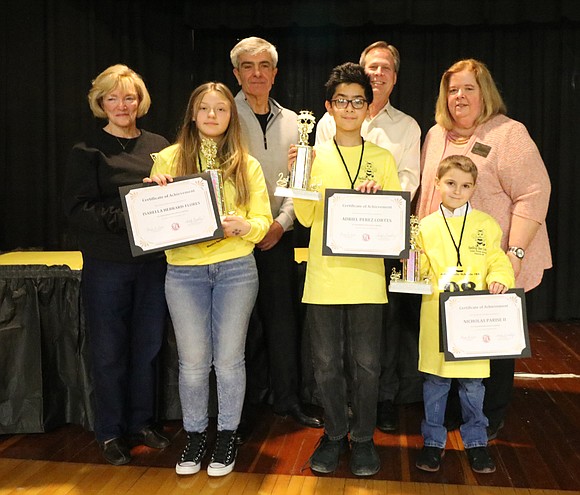 After 14 rounds of spelling, Pershing Elementary fifth-grade student Isabella Hebrard-Flores took home the first place trophy at the Joliet Public Schools District 86 Elementary School Spelling Bee Contest. Adriel Perez Cortes from Carl Sandburg Elementary and Nicholas Parise II from T.E. Culbertson Elementary placed second and third place at the competition. (From left to right) Joliet Public Schools District 86 Board of School Inspectors (from left to right) Deborah Ziech, Tony Contos, and Jeff Pritz, along with Superintendent Dr. Theresa Rouse, congratulate the winners.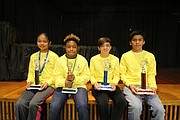 Also competing at the contest were: Noelle Sippel, M.J. Cunningham Elementary; Angela Guzman, Eisenhower Academy; Ayanna Garcia, Farragut Elementary; Ana Perez, Forest Park Individual Education School (I.E.); Damien Mead, Thomas Jefferson Elementary: Aaron Saavedra, Edna Keith Elementary; Alonda Reyes, A.O. Marshall Elementary; Roberto Lopez, Sator Sanchez Elementary; Denisha Cotton, Isaac Singleton Elementary; Sofia Saravia Avila, Taft Elementary; Diego Villasenor-Buitron, Lynne Thigpen Elementary and Nellie Montiel, Woodland Elementary.
The top junior high spelling winners were (from left to right): Dirksen Junior High: Angelique Bernabe; Gompers Junior High: Parrish Sims; Hufford Junior High: Ryland Denson; and Washington Junior High: Kevin Guzman. These students will compete in the Will County Regional Office of Education Spelling Bee Contest in the spring.