Wine of the Week-90 plus Cellars Bordeaux Classic Series 2016-$12.49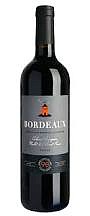 Bordeaux France is considered the greatest wine making region in the world. Prices can soar well into the hundreds and beyond per bottle. There are many wine regions that can stake a claim to the title, but few have the history and mystique. Bordeaux is huge, not just in reputation, but in geography as well. Three times the size of Burgundy, it produces 70 million cases of wine a year.
Winemaking in Bordeaux dates back to Roman times. Chateau Ausone of St. Emilion is in fact named for the 3rd century Roman poet. Ausionius. Bordeaux came to prominence in the 12th century when Henry Plantagenet, heir to the throne of England, married Eleanor, Duchess of Aquitane, thus creating a stable path for the exportation of Bordeaux wine to England and beyond. Thus Bordeaux's rise as the most widely celebrated wine in the world.
Fast forward to today and the meticulously cultivated vineyards of Bordeaux along the banks of the Gironde Estuary near France's Atlantic coast. This is the home of some of the world's most renown red grape varieties, Cabernet Sauvignon, Merlot and Cabernet Franc. From these grapes come the most elegant, full-bodied wines in the world. Enter 90 plus Cellars and founder Kevin Mehra, a wine negotiant with a mission to bring high quality wine to market for a better price. Mehra started calling on the world's best wineries, asking them if they had wine to sell. The idea was to put their wine behind the 90 plus label and sell it for less. It was a win/win for everyone. Wineries got to sell more wine and you, the buyer, got better wine at lower prices.
At $12.49, 90 plus Cellars Classic Series Bordeaux 2016 is an exceptional value. With dried fruits and cloves on the nose, it blossoms into a bright cherry flavor with layers of toasty oak for a lasting finish. The wine's satisfying taste is perfect for Holiday fare, Roast Turkey or Duck, Roast leg of lamb with garlic and rosemary or a hearty Standing Rib Roast. Save a little for molten chocolate cake or a rum infused fruitcake or Marsala –soaked Tiramisu.