County passes balanced budget
Tax rate lowered for 5th consecutive year
11/25/2019, 10:21 p.m.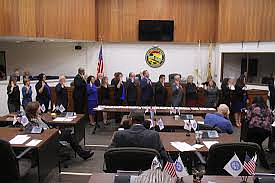 Joliet – The Will County Board has approved a balanced budget of $624 million for the upcoming fiscal year that contains no new taxes and continues to provide essential services to taxpayers. For the fifth year in a row, the board has lowered the tax rate. The 2019 tax rate will be 0.5795% which is lower than the 2018 tax rate of 0.5927%.
"I'm proud of the hard work that everyone at the county has done to put this budget together," said County Board Member and Finance Chair Kenneth Harris (D-Bolingbrook). "Our budget for fiscal year 2020 meets all of our debt obligations, includes a five year road and capital plan, and includes $108 million in funding to complete the new courthouse and a new state of the art Health Department."
Rating agencies like Moody's and Standard & Poor's continue to recognize Will County for its diverse tax base, stable financial performance, and strong reserves and liquidity. The county maintains an AA+ bond rating.
Will County Board Speaker Denise Winfrey (D-Joliet) said that healthy debate and bi-partisan work helped produce this year's budget.
"We continue to provide vital services to our residents while planning for the future growth of Will County," said Winfrey. "I'm grateful to my colleagues on both sides of the aisle for thoroughly debating this budget and being sensitive to the needs of the county while always putting the taxpayer first."
Minority leader Mike Fricilone (R-Homer Glen) said that his caucus would have liked to see the tax rate lowered more than it was.
"Will County had the opportunity to lower the burden on our taxpayers and still provide the highest level of services," said Fricilone. "We owe it to our constituents to keep their taxes as low as possible and I think there were areas in the budget where we could have tightened our belt a little more."