Students receive superintendent awards
11/26/2019, noon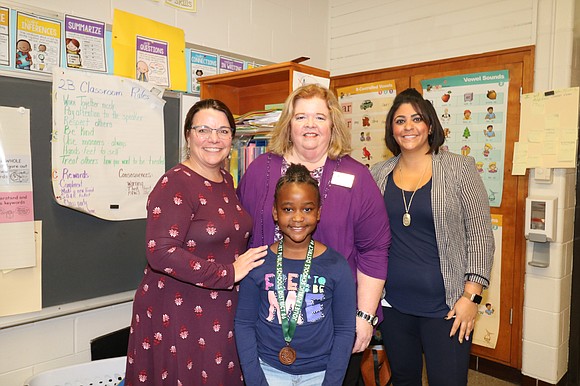 Congratulations to the Joliet Public Schools District 86 students who received the Superintendent's Award for the first trimester of the 2019-2020 school year. Only one student from each District 86 school was selected for this honor. Superintendent Dr. Theresa Rouse, along with the school principal, surprised the students with the award.

The student winners included Santino Calderon, T.E. Culbertson Elementary; Leonardo Avalos, M.J. Cunningham Elementary; Jakiah McGill, Dirksen Junior High; Leigha Winfield, Eisenhower Academy; My'Angel Coleman, Farragut Elementary; Karen Haro Garcia, Forest Park Individual Education School; Nicholas Ortiz, Thomas Jefferson Elementary; Jacqueline Colunga Beltran, Gompers Junior High; Dalal Eid, Hufford Junior High; Ghianna Mack, Edna Keith Elementary; Perla Alarcon, A.O. Marshall Elementary; Jessica Myles, Marycrest Early Childhood Center; Stephan Marshall, Pershing Elementary; Luna Gomez, Sator Sanchez Elementary; Ta'leeah Willis, Carl Sandburg Elementary; Karla Paramo, Isaac Singleton Elementary; Sophia Jordan, Taft Elementary; Jada Matthews, Lynne Thigpen Elementary; Angel Pedroza, Thompson Instructional Center; Marcellus Mines, Washington Junior High; and Diego Pinto, Woodland Elementary.
Twenty-one additional students will receive this award at the end of the second and third trimester of the school year.