Start of flu season: A great time to check all of your immunizations
10/22/2019, 3:37 p.m.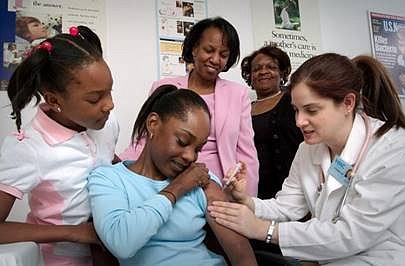 Another flu season is upon us. Will County Health Department Epidemiologist Alpesh Patel says that not only is this the time to get your flu shot, but also a great time to ask your health care provider about other immunizations you might need as well. In other words: Time to give your records a check-up.
One noted difference going into this flu season is that the vaccine in the flu shots this time around is of the "quadrivalent" rather than "trivalent" variety.

Going into each flu season, influenza trends are considered from both the previous flu season and around the world. (Knowing what southern hemisphere countries, such as Australia, have encountered during their just completed winters, is an important key.) Usually, the flu shot vaccine targets the three most prevalent current influenza viruses. Hence, the vaccine is usually known as "trivalent."
This flu season, however, four types of flu are targeted by the vaccine. They are listed by the Centers for Disease Control and Prevention (CDC) as H1N1, H3N2, B/Victoria, and B/Yamagata.
Patel says the fact that this year's vaccine is of the quadrivalent variety does not necessarily mean we are in for a severe flu season. "It's just a matter of tracing the different circulating viruses from last season and around the world. These, of course, are not the only four that exist. There are many more. But a vaccine targeting these specific four will give you the best protection from what strains are out there." Patel says that as of earlier in October, there were no documented cases of the flu in Will County.

There is no doubt that will change. Patel pointed out that flu viruses exist throughout the year. Winter, however, brings about the flu season due to residents spending more time indoors with windows closed, in addition to the significant amount of indoor human interaction that occurs during the holiday season. Patel says once again we will probably see a rise in flu cases right after the holidays. But only time will tell how much and how severe.
And while many weather forecasters are predicting a rather severe winter with more extreme lower temperatures than usual, Patel says that a bad winter has no definite impact on the severity of the flu season. "There is no science behind that," Patel explained. "There are so many factors that play roles in this. People are exposed by different means and people come across each other in different ways. It is unpredictable season to season.
The start of the flu season can be a great time to not only get yourself protected from influenza, but also make sure you are properly protected against Measles, Mumps, Whooping Cough, and other illnesses.
"Right now," Patel continued, "it's all about 'the vaccine is available, so go get it and protect yourself.' And not only that, but educate yourself about who especially needs a flu shot. It's especially important for young children, seniors, those with compromised immune systems, and those with complications such as diabetes, cancer, or HIV. Check with your provider or pharmacist."
Patel says the start of the flu season is also a great time to speak with your health care provider about other immunizations you or your children might need. "We certainly have seen activity over the last couple of years concerning measles and mumps. So ask about your MMR status and find out if you need an additional shot." Patel says another dangerous illness to check for in your records is pertussis (commonly known as whooping cough). "Someone might begin coughing badly and think 'it's just my allergies' or 'it's just my asthma.' But it could be more. So check with your doctor ahead of time to make sure you are protected."
Flu shots, as well as the other recommended vaccines, are available to persons of all ages at the Will County Health Department Immunization Clinics. Call for an appointment at 815-740-8143. Appointment desk hours are Monday, Tuesday, and Thursday 8 AM to 4 PM, Wednesday 10 AM to 6 PM, and Friday 8 AM to 11:30 AM. For more on Will County Health Department programs to go willcountyheath.org