Lyric Opera Chicago-Civic Opera House
Final season performance Thursday, Oct 31-2pm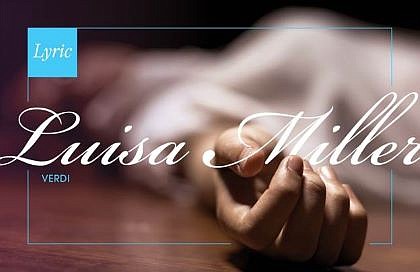 Verdi's tragic opera Luisa Miller is getting the star treatment after 37 years of neglect in a stately new production by Francesca Zambello (artistic director Washington National Opera) in the Ardis Krainik Theatre of the Civic Opera House. The production also marks the debut conducting performance of the Lyric's new Music Director Designate Enrique Mazzola. The final performance is Thursday, Oct. 31.\
Set in early 19th century Empirical England, the opera gets a glossy modernist look with bold swatches of deep reds and black with atmospheric visual backdrops thanks to Set Designer Michael Yearn and Costumes by Dunya Ramicova. Lightning Designer Mark McCullough set forth the full import of his craft by creating effects that heightened the dark mood of deceit and envy that envelopes the opera. One effective tool was creating larger-than-life silhouette figure on a rear screen that mimicked the actor/singers onstage. The conceit served to heighten the drama that was being enacted.
Perhaps one reason Verdi's monumental tragedy is so rarely sung is the paucity of singers, particularly sopranos, who can navigate the Nadia Comaneci leaps and bounds t hat Verdi's score demands. (Think the late, great Montserrat Caballe in her prime). In addition, the plot line of Luisa Miller very closely resembles that of Charles Gounod's Romeo et Juliette, which tells the tale of a doomed, star-crossed couple, based on Shakespeare's well-known romantic tragedy.
Nonetheless, Lyric has assembled a stellar cast of top-flight dramatic singers, who handle their roles with aplomb. Its a pity there are such few performances this season, because this is a must see. Krassimira Stoyanova is the embattled Luisa Miller, in her Lyric return after a more than five-year absence. Known as a Verdi specialist, she brings a depth to the role that few others could convey.
The opera tells the story of the title character, who is a native girl in love with a mysterious young man she know only as Carlo, who is really Rodolfo (sung with magisterial glory by Lyric favorite Joseph Calleja), the son of a local lord, Count Walter, sung by Ryan Center alumnus and 2018 Richard Tucker Award winner Christian Van Horn. Although the two declare undying love, Luisa's father is dubious. The superlative Quinn Kelsey, another Lyric favorite who has won the Met Opera's Beverly Sills Award, and who is also Ryan Center alum, sings Miller. Miller's fears are confirmed when Count Walter's retainer, appropriately named Wurm (Solomon Howard in his Lyric debut, and an excellent example of Lyric's commendable reach in color-blind casting. We'll see him as Fafner in the Ring cycle later this season), launches a nefarious plot to blackmail Luisa into marrying him.
You already know where this is going, but, like all unfolding tragedies, you can't divert your attention, not even for a moment. If you have no interest in chasing young ghouls and goblins (these day Spiderman, Walking Dead, Harry Potter and Wonder Woman), hitch a ride on a flying vampire's wing to the Civic Opera House for the final night of Luisa Miller. For tickets and information visit lyric opera.org