2019 USF named in 2020 "Best Colleges" rankings of national universities by U.S. News
9/23/2019, 10:11 p.m.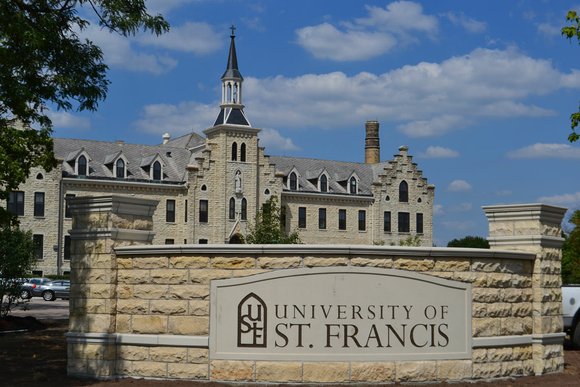 For the past fifteen years, the University of St. Francis (USF) has been recognized as a top university by U.S. News & World Report. This year's recognition, which now marks the sixteenth consecutive year that USF has been recognized by U.S. News, comes in a new form, as Joliet's only four-year university has moved up from the Master's Midwest category to the National Universities category in its 2020 "Best Colleges" rankings. According to usnews.com/education, "Schools in the National Universities category offer a full range of undergraduate majors, plus master's and doctoral programs. These colleges also are committed to producing groundbreaking research." In years past, USF had been included in the Master's Midwest category, which generally includes institutions that awarded at least 50 master's degrees and fewer than 20 doctoral degrees during a given update year.
The university's move to the National Universities category was the result of its awarding of at least 20 research/scholarship doctoral degrees during this most recent update year. An increase in the number of Doctor of Education (Ed.D.) degrees awarded by USF, which are classified as research/scholarship doctoral degrees, played a large role in the reclassification. Listed at #202 on the list top colleges and universities, the recognition is the latest in a succession of honors earned by USF. U.S. News ranks some 1,400 schools among the 4,298 degree-granting post-secondary institutions in the U.S., according to the National Center for Education Statistics. "We are pleased that outside organizations continue to recognize the quality of a University of St. Francis education," said USF President Arvid C. Johnson, Ph.D. "While being recognized for our quality in these rankings helps to validate the efforts of our faculty and provides us with many points of pride, the most important indicators of our success as educators are that our students have a great learning experience, graduate, are considered top prospects by employers, and find jobs that launch their careers."
Within the 2020 National Universities category, USF is ranked #7 among all Illinois schools, along with #4 among Illinois private schools, and #2 among Catholic schools in Illinois. Three other Illinois schools also moved up into the National Universities ranking along with USF this year, but USF was the highest ranked of that group. U.S. News also ranked USF #90 on the "Top Performers on Social Mobility" list.
The list, according to usnews.com, states that, "Economically disadvantaged students are less likely than others to finish college, even when controlling for other characteristics. Some colleges are more successful than others at advancing social mobility by enrolling and graduating large proportions of disadvantaged students awarded with Pell Grants. The vast majority of these federal grants are awarded to students who's adjusted gross family incomes are under $50,000." "Being ranked in the top 100 for Social Mobility is one of those measures every staff and faculty member at USF can be proud of," said USF Vice President for Admissions and Marketing, Eric Wignall. "It shows our commitment to serve people from every background and income level. It shows just how solid our educational programs are that our graduates truly make more and do more to improve their lives." "USF is a ladder people can use to reach higher and create more opportunities. We don't simply serve a small fraction of students who are already primed for success. We help students achieve more, learn more, and then they earn more as they launch their careers," Wignall added. Additionally, USF earned "Ethnic Diversity" recognition from U.S. News. Reported by usnews.com,