Spanish Center to become an early voting location in 2020 elections
9/23/2019, 10:22 p.m.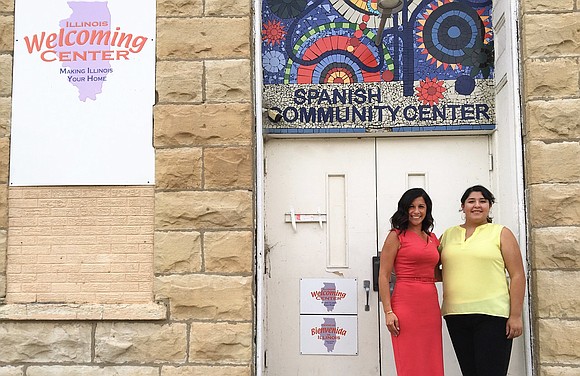 The Spanish Community Center on Joliet's East Side has agreed to become one of the newest Early Voting locations in Will County.
The Spanish Community Center, 309 N. Eastern Ave., will serve citizens during the two-week Early Voting time frame prescribed by the Illinois State Board of Elections, which starts on March 2, 2020 and continues through March 14, 2020. The Center has locked in an agreement to serve voters during some early evenings as well as on weekends during Early Voting.
The County Clerk, who serves as the president of the Spanish Community Center's Board of Directors, worked with Executive Director Veronica Gloria on the Early Voting agreement. In advance of the March 17 Primary Election, bilingual Election Judges will conduct Early Voting for citizens from throughout Will County in the Center's gymnasium during the following hours:
9 a.m. to 4:30 p.m. between Monday, March 2 and Friday, March 6;

9 a.m. to noon on Saturday, March 7;

9 a.m. to 7 p.m. between Monday, March 9 and Friday, March 13;

9 a.m. to 2 p.m. on Saturday, March 14.
Early Voting hours for the November 2020 Presidential Election at the Spanish Community Center will be finalized in the Spring/Summer of 2020.
"I cannot tell you how exciting it is to bring the Spanish Community Center on board as an Early Voting site," said Lauren Staley Ferry, Will County Clerk. "More than 8,000 people from more than 25 Will County towns trust and rely on the Center to provide important services such as daycare, job search counseling, legal assistance, educational programs, and supplemental food support. It makes perfect sense to offer Early Voting to citizens from all of these communities in such a trusted environment."
Gloria said, "The Hispanic/Latino community is integral to a truly inclusive American democracy, but it has often faced barriers and uncertainty to exercising its full rights. It is important that all citizens have welcoming locations where they feel safe and encouraged to exercise their right to vote. The Spanish Community Center is pleased to open its doors to Will County citizens of all backgrounds who wish to participate in Early Voting."
Staley Ferry acknowledged that the Will County Clerk's Office in downtown Joliet, which also serves as an Early Voting location, is less than a mile from the Spanish Community Center. However, she noted the Center already is an important weekly or daily destination point for thousands of citizens who visit for services. Based on visitations and convenience, the Spanish Community Center is an excellent choice for an Early Voting location.
"Even though the physical distance from the downtown Will County Clerk's Office is short, the Spanish Community Center might seem a world away to many citizens who rely on its services," Staley Ferry said. "My goal as the Will County Clerk is to make voting easy and accessible in as many communities as possible."
The County Clerk made good on her commitment prior to the recent April Consolidated Election when she brought the Village of Shorewood on board as an Early Voting location, even though Troy Township conducts Early Voting less than two miles to the south.
Staley Ferry also is preparing in the coming weeks to announce additional new Early Voting locations in Eastern Will County as well as in Western Will County.