Joliet West Wrestler a Finalist for State Hall of Fame Award
9/30/2019, 3:58 p.m.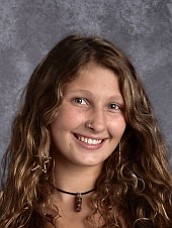 The National Wrestling Hall of Fame-Illinois Chapter has nominated Joliet West High School student Louisa Schwab as a finalist for the prestigious Tricia Saunders Excellence in Wrestling Award. The NWHoF- IL Chapter has named five Illinois female wrestlers, who are current high school seniors, to be finalists for the Illinois 2020 Tricia Saunders Award.
Louisa's wrestling highlights include: 2019 Junior Women Freestyle Nationals , 3rd; 2019 Junior Women National Dual, undefeated- team first; 2019 IL Girls Freestyle State Champion; 2019 Marines Western Regional-Fr, 1st; 2018 Junior Women Freestyle Nationals, 2nd; IWCOA 2018 Frosh Soph & Girls, 1st; IWCOA 2018 Girls Sectional Shepard, 1st; 2018 Southwest Prairie Boys Conference, 4th; 2017 Cadet Women Freestyle Nationals, 1st; Midwest Mat of Dreams Girls HS Duals, 5-1; and 2017 Women's Nationals Texas, 5th.
West Head Wrestling Coach Chuck Rumpf said, "We have been so lucky and honored to have Louisa involved with the wrestling program for the past 4 years. In addition to her impressive resume, Louisa has been a true leader on our team and has served as a captain since her sophomore year. During the course of her high school career, Louisa has been the face of Joliet West Wrestling. Nobody has been a more positive ambassador for Joliet West High School, and she has represented the wrestling program with pride all across America. When I look back, I will see Louisa as a pioneer for the emerging sport of women's wrestling which I feel is on the cusp of exponential growth. I am so fortunate to call her a Tiger, and we will continue to be proud of her accomplishments as her wrestling career continues."
To be considered for the award winner selection, the finalists must each submit an application that includes their academic record, community service, and letters of recommendation. The National Wrestling Hall of Fame will select a National Tricia Saunders Excellence in Wrestling recipient from each of the state recipients. The National selection will be enshrined in the National Wrestling Hall of Fame this June in Stillwater, Oklahoma.