Volvo's Scandinavian Adventure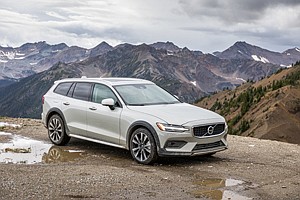 The fastest speed limit we saw was 90 kilometers per hour that's about 55.9 miles per hour. On one stretch it was 100 KPH but that didn't last long. And since we had been warned that the police were operating several speed traps in the area, we pretty much stuck to the speed limit.
The road may have been boring but the XC90 was not. Some of its features were Napper leather seats that were heated and cooled; the second row seats were also heated too and there was grey ash wood trim. The front seats had cushion extenders, there were 21-inch alloy wheels, an air suspension and full LED headlights. Oh, those front seats would also massage too.
Volvo increased the battery size on the T8 to 11.6 kWh and added automatic braking to the blind spot information system with cross traffic alert.
Interior enhancements included wool contour seats (we didn't have them), a restyled crystal gear shift knob and a 1,400 watt 19-speaker premium sound system. And that was just the beginning.
The Volvo XC90 had Volvo's double wishbone front suspension. This means the wheel is attached to the car by two transverse links. The front suspension design also counteracted torque steer (the tendency to pull to the side during acceleration). Since we maintained constant, meaning slow speeds, there weren't many places to aggressively accelerate. Most of the suspension parts were made of aluminum to reduce weight.


About the only thing we didn't like was that the captains' seats in the second row did not have armrests. The vehicle we were test driving had a sticker of $86,990.
We crossed into British Columbia and headed to the base of Kicking Horse Mountain. It's a high in the sky resort and we switched into the 2020 Volvo V60 Cross Country wagon.
It's got some big treads to fill; station wagons are a Volvo specialty. This V60 was two and a half inches higher than the regular V60. The Cross Country sat on a unique chassis too, it had extended wheel arches (cladding around the wheel wells) and a studded chrome grille.
All-wheel drive was standard as were hill descent control, electronic stability control, corner traction control and a special off-road driving mode. It had a specially developed chassis and suspension that enhanced the car's off-road capability.
Under normal conditions the V60 Cross Country's power was distributed to the front wheels. The system constantly calculated the need for torque and could redistribute up to 50 percent of the engine's power to the rear wheels. When at a standstill, full all-wheel drive is always engaged to prepare for maximum traction during acceleration.
It had a turbocharged 2.0-liter 250 horsepower four-cylinder under the hood that made 285 pound-feet of torque. TheV60 Cross Country had a standard panoramic moonroof, standard LED headlights with Volvo's signature "Thor's Hammer" daytime running lights, advanced safety technology, including available pilot assist driver assistance system and an intuitive infotainment system with standard Apple CarPlay and Android Auto.
It is important to take note of where we were at 5,000 ft. in elevation. We were going to the summit of the mountain to a place called Eagle's Eye Restaurant for lunch. It was at 8,000 ft. and to get there we drove up the access road, which was a trail, not a road.