Wine of the Week: 1000 Stories Bourbon Barrel Aged Gold Rush Red -$18.99
A great wine for grilling during the lockdown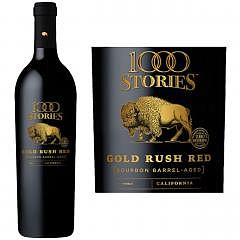 The Covid-19 virus lockdown has made us all a bit stir crazy, but, thankfully, the weather is heading for a spring thaw and there is ample opportunity for outdoor grilling. Also fortuitously, there is an abundance of fruit-forward, smoky, oak-aged wines that go perfectly with those burnished offerings from the grill.
One of my 'go to' favorites is a whiskey barrel aged red blend from California. 1000 Stories Bourbon Barrel Aged Gold Rush Red ($18.99) is one of the most outstanding values currently available that embodies everything you could want in a barbeque wine. It has copious amounts of Cabernet, Syrah and Zinfandel in the blend, bolstered by that California classic, Petite Sirah and a touch of Merlot to add a meticulous touch to this highly complex and intense blend.
If you eat meat and want to treat yourself and family get a nice Tri-tip or Top Round Steak, or a Rib Eye. They would pair well with this wine. Marinate the steak in a blend of black and white pepper, garlic, onion, fresh sage or thyme, salt and a touch of cayenne and don't forget to rub it down with a generous splash of olive oil before roasting it over hot coals.
This is a bold wine with intriguing notes of black fruit, dried herbs, charred vanilla and a hint of smoke. Ripe and toasty, this is the wine that makes a juicy grilled steak sing! REMEMBER TO ALWAYS DRINK RESPONSIBLY.