Silver Cross Hospital's first COVID-positive patient discharged
4/29/2020, 8:46 p.m.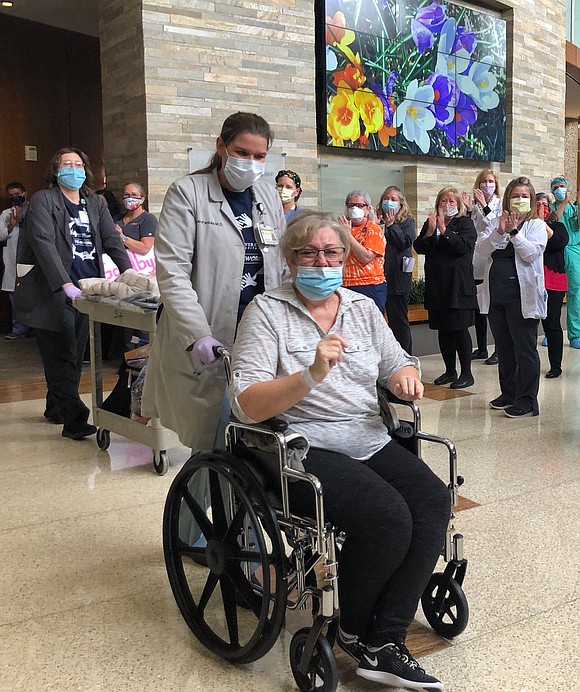 Halina Zabinski remembers very little of her 5-week stay at Silver Cross Hospital that began in mid-March, when she arrived in the hospital's emergency department with dangerously low oxygen levels.
But the grateful 59-year-old Lemont woman will never forget the emotional sendoff she received April 24 as hospital staff cheered her on to continue her miraculous recovery from COVID-19 at home, hospital officials said..
As the hospital's first COVID-19 inpatient, Zabinski initially was given a less than 1 percent chance of survival because of her critical condition at admission.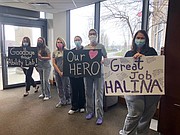 "I have no recollection whatsoever because my oxygen levels were so low," Zabinski said. Within 15 minutes of her arrival at the hospital's emergency department, she was placed on a ventilator and taken to the hospital's intensive care unit. She spent the next several weeks receiving around-the-clock care from highly skilled nurses, therapists and physicians all while battling devastating COVID-19 complications that included kidney failure, heart muscle damage, acute respiratory distress syndrome (ARDS) and blood clots.
"Halina was terribly, critically ill," said Dr. Kristopher McDonough, board-certified pulmonologist and critical care specialist, who cared for Zabinski during a large part of her ICU stay. "She was very hard to ventilate and oxygenate. She developed all the complications."
While intensive care staff are trained to care for patients with grave complications, the combination of complications that Zabinski and other critically ill COVID-19 patients exhibit is new territory for caregivers at hospitals across the country and often requires an innovative approach to managing their care, according to McDonough.
"Literally everything we have to do for these patients has had to be adapted," he added.
One treatment that proved particularly effective for Zabinski is called "proning," which involves putting the patient on a special hospital bed that allows them to lie face down and improves their breathing.
"Most patients that require this type of care are proned for 16 hours a day," he said. "Halina needed nearly 24 hours a day for several days."
That proved challenging because she also required renal replacement therapy to treat her failing kidneys. But her care team once again figured out a safe, effective way to deliver both.
"It took a lot of creativity and ingenuity," McDonough added. "It's a really big win. Her entire care team of nurses and therapists were amazing. Her nurses didn't leave her room; it was truly commendable."
Josie Kee , an intensive care nurse at Silver Cross, provided one-to-one care for Zabinski during her first two weeks at Silver Cross. "She was definitely one of the sickest patients I've ever had," Kee recalled. "I really didn't think she was going to make it."
But Kee said she and other members of Zabinski's care team never gave up hope. Not only did they provide 24/7 care, they communicated regularly with Zabinski's husband (who also spent several days at Silver Cross battling COVID-19 on the hospital's 6th floor) and her daughter Katie, a medical student. Though they couldn't be together, Kee coordinated updates via cell phone and FaceTime.
Kee said the teamwork within her unit and across several hospital departments has been an inspiration to her. "I couldn't get through this without my coworkers. And Halina's story is just so uplifting for all of us."
Respiratory therapist Nicole Sain agreed. Sain cared for Zabinski during her initial stay in the ICU to ensure she was properly ventilated and sedated. "The ventilator takes over a patient's breathing so the body can recover," she explained. "I saw Halina at the very beginning, and she required 100 percent oxygen, as high as you can go."
Slowly, her oxygen levels improved enough that it was time to see if Halina could breathe without the help of the ventilator.
"It was very emotional," Sain recalled. "The fear was that she might not be able to maintain her airway because of the length of time she had to be ventilated."
Dr. McDonough delivered the news to Zabinski's family that there was a 50-50 chance she might have to be put back on the ventilator if the trial extubation failed. But thanks to the excellent care she received throughout her stay, Zabinski held her own when she was taken off the ventilator. And 24 hours later, her entire care team breathed a sigh of relief when she continued to improve.
Eventually, Zabinski was stable enough to be transferred to the hospital's 6th floor before making a final stop in the inpatient rehabilitation unit for strengthening before being discharged to home. Physical, occupational and speech therapists play a major role in helping patients like Zabinski recover from COVID-19 by helping them regain the strength to walk, communicate clearly (especially after being on a ventilator) and take care of everyday activities like showering.
"I was born again on the day they took me off the ventilator," Zabinski said. "And I'm so grateful to be leaving through the front door…and not the back door."
Zabinski's memorable hospital discharge was arranged by Andi O'Neill, ICU social worker. O'Neill was a vital intermediary between Zabinski and her family during her stay in the ICU.
"We were all rooting for Halina and wanted to say good-bye," she said. "We started this journey with a lot of uncertainty, but it's had a very happy ending!"
Zabinski's unforgettable sendoff was captured on video and posted to the hospital's Facebook page, where it received thousands of likes, shares and comments.
"On behalf of my mother, I would just like to thank all the doctors, nurses and the rest of healthcare workers who helped save her life," wrote Zabinski's daughter Katie. "Without this amazing team, I am sure we would not have her in our lives today. You are all heroes and we are extremely thankful for the work you do. Thank you for constantly keeping my dad and I updated about her condition along the way. She is extremely grateful to be home, thank you for helping her beat COVID!"
Zabinski added, "That's why I wanted to share my story so people can see that even someone with a less than 1 percent chance of survival is going home."
For more information, visit www.silvercross.org