Lyric Opera of Chicago, A 'Butterfly that soars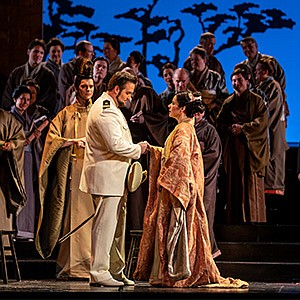 Lyric Opera of Chicago's current revival of its 2013 production of Puccini's Madama Butterfy is a performance that soars. With superb singing from an electrifying cast, led by Puerto Rican-born soprano Ana Maria Martinez as the doomed geisha Cio-Cio- San and Brian Jagde as her exploitative suitor Lt. B. F. Pinkerton, expert direction from Louisa Muller and firm, yet inspired conducting in the pit by Henrik Nanasi, this is a must for inclusion on your calendar now through March 8. Visit lyric opera.org for schedule and ticket information.
There is a sense of foreboding from the very beginning, even as Christopher Oram's set and costume design and revival lighting designer Chris Maravich set the tone of the setup for Pinkerton and Cio-Cio San's manufactured relationship. It is a sham from the outset. Pinkerton has no intention of staying with Cio Cio San. It is strictly a relationship entirely grounded in his convenience. The house, which has sliding, transformable walls, made from flimsy plywood and paper screens (almost symbolic of their transparent, transactional relationship), is on a 99 year lease, cancellable at a moment's notice. As he signs the contract, entitling him to the house and the young girl's favors, Pinkerton sings of his immediate plans to return to the U.S. to marry, in his words, "a proper American wife."

Such relationships were commonplace when military officers were stationed in foreign lands for long periods of time, far away from their loved ones. There was a lucrative clandestine cottage industry based on this circumstance. It was an unspoken fact of life. The 'marriage certificates' weren't worth the paper they were written on. They were mainly there to appease the family of the girl, and give an air of civility to what would now be considered as sex trafficking of underage girls to the wealthy. Everyone got their cut, from the corrupt local officials, both political and religious, to the various smarmy middlemen, to the families. Largely impoverished, the families of the girl received a measure of financial stability. The fact that a ceremony was held with a priest and family members present, gave it all an air of legality and civility. Such shams were commonplace in the early 20th century, as the U.S. spread its imperial wings across the globe. Pinkerton (Brian Jagde) lifts his soaring baritone voice to the rafters in praise of the era's expression of U.S. might as he and other officers in his far-reaching Navy traveled the globe, occupying territories and exploring their bounty (including their women), without a care.
As he relishes in his conquest, we begin to hear echoes of Cio Cio San's false and clearly misguided hopes for their alliance. She expresses early on her desire to denounce her own religion and culture to become what, in her mind, is a real American housewife to Pinkerton, unaware that he has already made plans to return to the state to marry there.
Thus begins the central conflict of circumstance and wills that propels this riveting Butterfly from beginning to end. It is well known that Puccini made several revisions of Butterfly, shortening it considerably from its original four hour length. The dramatic effect of this compelling story, and the spellbinding music makes a further case for brevity, with the story propelling to the inevitable with even greater dispatch.