STEMI awarded to Fire District
2/12/2020, 10:40 p.m.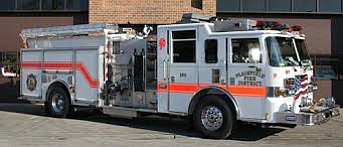 AMITA St. Joseph Hospital, Joliet held a Code STEMI Breakfast to celebrate their "EMS Partners" on Friday, February 7th. At the breakfast two Plainfield Fire Protection District Firefighter/Paramedics received Code STEMI awards along with two WESCOM 9-1-1 dispatchers and the hospital staff that all worked together to save the life of Nicole Gaffigan.
On October 19, 2019 Nicole's husband Tom called 9-1-1 and began CPR stating his wife was not breathing. Emergency crews responded and Firefighter/Paramedics Tyler Hunt and Andrew Urbancic provided advanced life support emergency treatment while enroute to the hospital.
Upon arrival at the hospital their patient had a heart rhythm and is now doing well. Also on the scene of the call were Lt. Ryan Johnson and Firefighter/Paramedics Jason Stone and Jimmy Brereton. Plainfield Fire Protection District was recognized for lifesaving patient care along with six other area Fire Departments/Districts during the breakfast.