2020 Volvo S90 AWD R-Design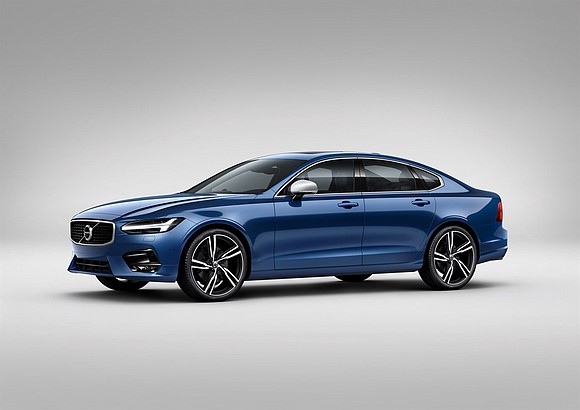 Test driving the 2020 Volvo S90 AWD R-Design was like motoring in two different cars and both were more than adequate.
First let's deal with the S90 itself. This is the Swedish automaker's flagship full size sedan. In the era of utility vehicles, Volvo only produces two sedans and this one was the R-Design, which in a word meant sport.
But performance can be and was combined with a bit of luxury. This car was the S90 T6, it was powered by a 2.0-liter direct injected four-cylinder engine that had a super charger and a turbocharger working in unison. The combination gave the car 316 horsepower and 295 pound-feet of torque.
It had an eight-speed transmission and the R-Design was equipped with paddle shifters. There were four drive modes: eco, comfort, individual and dynamic (read sport). The S90 sedan had an EPA rating of 21 mpg in the city, 31 mpg on the highway and 25 mpg combined.
This is the performance trait of the dual blower system. Our test vehicle had a bunch of pep at low speeds. That was the supercharger at its best. Our full-size sedan handled as though it was a third smaller. And that is saying something since the Volvo S90 really didn't look like a traditional big sedan.
On the expressways it was very fast, that was the turbocharger; at its best when high speeds are involved. We kept the drive mode set on comfort for most of the test drive, and on smooth pavement we barely felt the road beneath us.
For 2020, Volvo rid the S90 R-Design of its smaller, T5, four-cylinder engine. The sedan got a new front spoiler, a new R-Design grille, new R-Design 20-inch wheels, rear diffuser with integrated tail pipe, black window trim and black capped sideview mirrors.
There were new up-style leather seats with something Volvo called Nubuck inserts that looked like sued to us. The front seat had four-way lumbar supports, power adjustable sides or bladders and power adjustable cushion extenders for the lower legs.
Before we go any further, the R-Design had mesh aluminum trim; lots of it. And though the it may sound garish, it worked well. They managed to matte it, so the aluminum was not
shiny. It was the first use of aluminum trim we've seen that we liked.
We climbed into the back seats and found the second personality treat of the 2020 Volvo S90 R-Design – it was huge back there. There was enough room for us to and we did cross our legs.
The back seats were heated. But more importantly was that the side window power privacy screens were controlled from the right-side seat, so was the panoramic roof and its screen. The front passenger seat and the back sunscreen were all controlled from the right-side back seat.
In other words, the 2020 Volvo S90 functioned much like a limousine, although it didn't look like one. Remember, today's automotive market is global. And though we don't think this car could match up as a limo in this market, it could in China and other countries.