Cyborgs to be unveiled at 2020 FIRST competition Robot at community expo
2/25/2020, 9:21 p.m.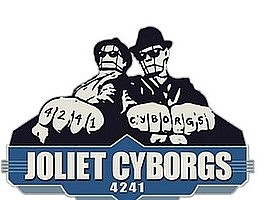 The Joliet Township High School Cyborgs Robotics Team will unveil its newest robot during the 8th Annual Community Exhibition from 5:30 to 7 p.m. on Tuesday, March 3, 2020 in the JTHS Administrative Center Board Room, 300 Caterpillar Drive in Joliet. The event is free and open to the public.
This is the eighth consecutive year that the Cyborgs' robot will compete in the FIRST Robotics Competition. Following strict criteria and competition rules, the Joliet Township High School Cyborgs have six weeks to design, build, and program the robot.
The Joliet Cyborgs FIRST Robotics Team engages students in meaningful application of STEM concepts and communication skills within the context of a real-world learning experience.
To RSVP for the Community Exhibition, contact Arianna Farias at afarias@jths.orgafarias@jths.org.
Los cyborgs de JTHS revelarán el robot de la competición FIRST 2020 en la Exposición Comunitaria el 3 de marzo
El equipo de robótica de los Cyborgs de Joliet Township High School presentará su nuevo robot durante la 8ª Exposición Comunitaria Anual de 5:30 a 6:30 p.m. el martes 3 de marzo de 2020 en la Sala de Juntas del Centro Administrativo de JTHS, 300 Caterpillar Drive en Joliet. El evento es gratuito y abierto al público.
Este es el octavo año consecutivo que el robot de los Cyborgs competirá en la PRIMERA Competencia de Robótica. Siguiendo estrictos criterios y reglas de la competencia, los Cyborgs de Joliet Township High School tienen seis semanas para diseñar, construir y programar el robot.
El Equipo de Robótica Cyborgs de Joliet involucra a los estudiantes en la aplicación significativa de conceptos científicos y de comunicación en el contexto de una experiencia de aprendizaje en el mundo real.
Para confirmar su asistencia a la Exposición Comunitaria, póngase en contacto con Arianna Farias en afarias@jths.orgafarias@jths.org.