MOVIE REVIEW: HELMUT NEWTON: THE BAD AND THE BEAUTIFUL
Directed by Gero von Boehm, Opening July 24 in Chicago's Music Box Virtual Theater at musicboxtheatre.com
7/23/2020, 11:17 a.m.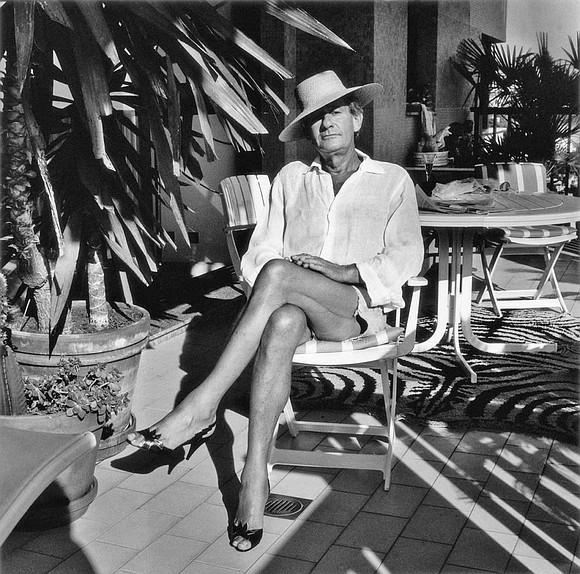 "Everybody remembers a bad picture. Nobody remembers the pain you went through to get a good picture." Those were the immortal words of the great, celebrated and somewhat off-beat fashion photographic genius Helmut Newton, the subject of director Gero von Boehm's expressive documentary Helmut Newton: The Bad and the Beautiful. It opened Friday July 24 in Chicago's Music Box Virtual Theater at musicboxtheatre.com.
The film is an Official Selection of the 2020 Tribeca Film Festival.
Helmut Newton is considered one of the most important and controversial photographers of the 20th Century. His photographs appeared regularly in Vogue, both in the USA and internationally, Elle, Playboy and Marie-Claire, among others. He was the subject of numerous international solo exhibitions and established his own museum in Copenhagen.
"World famous photographer Helmut Newton died today in a car crash in West Hollywood," an off-screen narrator intones early in the film. Dead at 83, Newton left behind a plethora of unforgettable, sometimes shocking images that lept from the pages of Vogue and other publications, creating the images that were the calling cards of fashion legends Karl Lagerfeld and Yves St. Laurent, among others.
Legendary Vogue Editor-In-Chief Anna Wintour explains:
"In Helmut's visual world, the women are everything. "
Helmut Newton liked to explain it thusly, "Men are just accessories, like hats and gloves.
Famed Italian actress and frequent Helmut model Isabella Rossellini sums it up best; "Helmut doesn't just look at women as a sexual object. It's much more complicated than that. A Helmut Newton woman is strong, provocative and in charge.
"At the same time, the photos are an expression of machismo, but also an expression of a culture. Men are attracted to women. At the same time, they are also angry at them. Because they ARE attracted to them, it makes them (the men) vulnerable, and that makes men resentful!"
That psychological conundrum sheds some light on the iconic photographs that Newton took with perhaps his most controversial subject, the performance artist and singing legend Grace Jones. Newton photographed Jones lying nude with a knife in her hand, poised to attack some unseen assailant.
"He seemed a little bit perverted," Jones said of her first impression of Newton . "But, so am I. So it's allright! His idea for the photo was erotic, but with dimensions. it had depth. It told a story.
" I watched everything he did, because he took the picture so quickly. He was waiting for just the right moment, when the light was coming down.
" I remember I was lying there naked on a cot, and he put a knife in my hand. The way that the light cast a shadow as it was moving, at one point it covered just over this part here ," she says, pointing to her private area. " But there was never anything vulgar about it. It was beautiful. It was done as if it was something to add to the story. "
She continues. "He (Helmut) waits just until the light hits the knife before he takes the picture. But there's no one else in the picture, so it leaves the rest to your imagination. You're still wondering, because it tells a story."