Shredding event Aug. 4
7/27/2020, 11:05 p.m.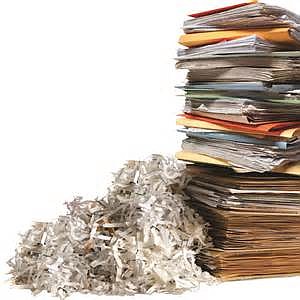 Unused documents like bills and medical records can begin to crowd people's homes. To ensure the items are properly disposed, State Senator Jennifer Bertino-Tarrant (D-Plainfield) will host a free public shred event Aug. 4.
"Shred events allow for a safe, free and convenient way to dispose of unneeded private documents," Bertino-Tarrant said. "It is an extra step to help protect from fraud and identity theft."
Bertino-Tarrant has partnered with State Representative Natalie Manley (D-Joliet) to host the event Tuesday at the former Romeoville Target.
To help reduce the chances of identity theft, experts recommend shredding things like bank statements, credit card offers and credit card convenience checks. Residents should also shred canceled credit cards, canceled checks, pay stubs, old photo IDs and tax returns that are more than three years old.
To keep everyone safe and healthy, staff and volunteers will wear necessary PPE when unloading vehicles. People participating should stay in their vehicles during the event for the health and safety of all attending.
Additionally, the Romeoville Police Department will offer medication disposal services. No liquids or sharps will be accepted.
Electronics recycling services will not be offered at this event, and people are limited to bringing two boxes of paper.
"During the stay at home order, many of us have taken the time to clean out our houses, including our file and medicine cabinets," said Manley. "This event will be a perfect opportunity for constituents to safely dispose of sensitive documents and ensure that unused medications are properly taken care of."
If people have questions about the event, Bertino-Tarrant urges them to contact her district office at 815-254-4211 or visit www.SenatorBertinoTarrant.com.