Longtime Bolingbrook mayor to retire on Friday
By Rex Robinson | 7/29/2020, 6 a.m.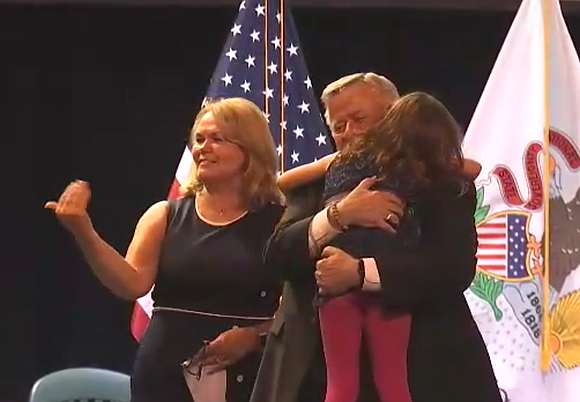 Bolingbrook Mayor Roger Claar on Tuesday presided over his last village board meeting and bid adieu to trustees, staff and supporters as friends and family members looked on from the lawn.
This was a special meeting, held on the Bolingbrook Performing Arts Center stage, a place normally reserved for live performances.
Claar announced earlier this year that he would not seek re-election to another term and would retire from the office to spend more time with his fam-ily. Three weeks ago, he said his last day in office would be July 31.
"Well, this is it," he said as he placed a box of Kleenex on the podium. "Thirty-three years, eight months and seven days from Friday I became mayor."
He joked that a resident had complained to him that he only gave two weeks notice of his retirement. "I mentioned in the State of the Village Address in January that I was going to retire in the summer."
With his wife, Pat, his daughter, Lindsey, her husband Trevor, and their daughter looking on from the front row, Claar went through a long list of ac-complishments that happened under his watch, everything from bringing Lake Michigan water, new subdivisions with better homes, a hospital and a diverse retail tax base to Bolingbrook.
"We didn't have any retail, now we have a Promenade Mall," he said.
He also pointed to the various industrial businesses that have opened in the village since he has been mayor. "We have products being made in this vil-lage that are being shipped around the world," Claar said.
Claar also pointed to how diverse the community has become in terms of the many different ethnic groups represented in the village. He also stressed how there is no segregated neighborhoods in Bolingbrook. "We are an extreme-ly diverse community," he said. "Everybody is everywhere."
He also pointed out how there is no strip clubs, gambling casinos, video poker, shops that sell marijuana or massage parlors in the village. "Folks," Claar said, "that didn't happen by accident."
Claar thanked all the village staff and trustees and his longtime village attorney Jim Boan for standing with him over the years.
Trustees presented Claar with a slide show on the big screen behind the podium that displayed photos of past ribbon cuttings and grand openings and shots from the numerous parades and other events he took part in as mayor over the years.
Earlier in the meeting, the mayor appointed two co-managers who will be in charge of running the day to day operations of the village. Serving as co-managers for Bolingbrook will be Lucas Rickelman, currently public works di-rector, and Ken Teppel, who is currently the director of public safety. Both Rickelman and Teppel will resign their current positions effective July 31. Their new positions will take effect Aug. 1. Claar said Rickelman and Teppel are both lifelong Bolingbrook residents and combined they have 50 years of experience working for the village.
The board also voted unanimously to revert back to a part-time mayor's position when Claar retires. Claar spent about half his time in office as a part-time mayor and then became full time as more development started to happen in Bolingbrook, he said. The part-time mayor's position is expected to be filled on Thursday.