Gambero Rosso Tre Bicchieri World Tour-Chicago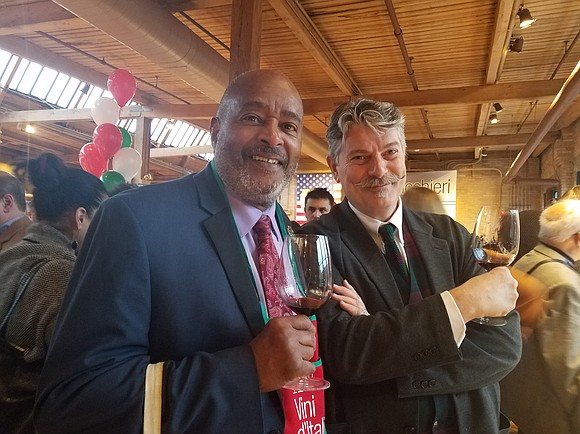 "We have over a thousand people here. This is the most successful stop on our World Tour so far," beamed Marco Sabellico, Senior Editor of Gambero Rosso, the Italian Wine, Lifestyle and Travel media giant which is the sponsor of Tre Bicchieri, the Academy Awards of Italian wine which made the second stop on the US leg of its World Tour in Chicago.
More than 200 producers and their representatives were on hand in the picturesque Skyline Loft of Chicago's Bridgeport Art Center to pour their wines, which were recipients of the 2020 Tre Bicchieri (Three Glasses) award for excellence. It was a terrific opportunity to catch up with old friends in the wine industry and to greet and congratulate the award-winning winemakers and owners and taste their magnificent wines.
Italian wines have made steady inroads in the US market and their consumption and appreciation is at an all-time high. With increased demand in high end restaurants for Italy's exceptionally high-quality wines, such as the 'Super Tuscan' IGT wines of Tuscany, wines from Chianti Classico, Barbera d'Asti, Montepulciano d'Abruzzo, and Amarone della Valpolicella. Italy's highly coveted sparkling wines were also represented and poured by producers from Valdobbiadene, Franciacorta, Prosecco di Treviso, and Lambrusco, among others.
Special awards were presented to Chicago restaurants, hotels and wine bars, whose wine lists and wine programs best promoted the Italian wine industry.
Coco Pazzo Restaurant of Chicago's River North earned Two Forks (Due Forchetta) Award for Top Italian Restaurant in Chicago. Wine Director Susan Weiss was present to receive the award.
Best Contemporary Wine List honor went to Piccolo Sogno (Our Little Dream), located in the Fulton River District of Chicago's West Loop. Owners Tony Priolo and Ciro Longobardo were honored for their impressive all-Italian wine list, which showcases wines from virtually every region of Italy, with 400 plus wine selections. Piccolo Sogno's expert staff guide their customers through the enormous variety of regional wines, which are paired with the restaurants ever-changing menu of seasonal rustic Italian cuisine.
Co-owner Ciro Longobardo was present to receive the award and commented , "We want to provide our diners with an appreciation of the enormous variety of Italian wines without overwhelming them. We pay special attention to make sure our staff can help them select a wine that pairs perfectly with their meal."
Piccolo Sogno also received 1 Gambero (one shrimp) in the Best Italian Restaurant category.
Some of the wine favorites from the Chicago stop on the World Tour:
Graziano Merotto winery from Treviso, Italy presented its Cuvee' del Fondatore Valdobbiadene Prosecco Superiore DOCG ($36) and its Rive di Col San Martino Brut Millesimato ($35). The Fondatore Prosecco Superiore was the selection for last week's Wine of the Week, complimented for its superior balance of floral aromas and bright citrus flavors. Sales Manager Sonya Zanolla was on hand to personally pour her selections.