March Madness may be canceled but Forest Preserve hosts "Tournament of Birds"
3/25/2020, 10:04 a.m.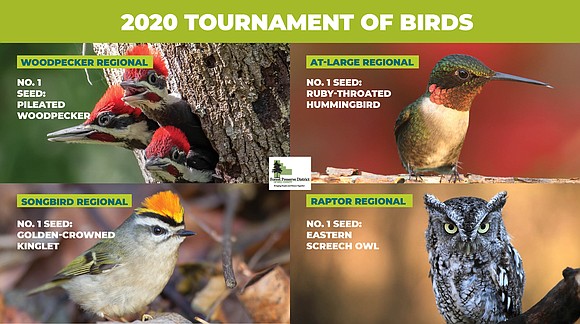 March Madness may be canceled, but the Forest Preserve District of Will County has its own "seeds" and brackets and you can play along on Facebook by voting in the "Tournament of Birds" through April 1.
The tournament is part of the Forest Preserve's quest to provide diversions during the new coronavirus pandemic and the stay-at-home directives from health officials. The District will continue to publish online stories, videos and photos that provide nature-themed diversions, including the "Tournament of Birds."
Instead of NCAA teams, players will root – and vote – for their favorite avian species via the Forest Preserve's Facebook page, Facebook.com/WillCoForests. A new matchup will be posted daily at 10 a.m. and votes through 9:59 a.m. the next day will be counted. Vote for your favorites by leaving a comment with your bird of choice on each matchup.
In this second annual tournament, 16 birds that can be seen in Will County forest preserves are competing for bragging rights. Last year's winner, the bald eagle, has flown on to bigger and better things after one year of eligibility.
The tournament has been broken into four regionals:
• Raptor Regional: osprey, eastern screech owl, American kestrel, peregrine falcon
• Songbird Regional: American goldfinch, golden-crowned kinglet, prothonotary warbler, yellow-throated vireo
• Woodpecker Regional: pileated woodpecker, red-headed woodpecker, red-bellied woodpecker, northern flicker
• At-Large Regional: ruby-throated hummingbird, greater white-fronted goose, common loon, belted kingfisher
For more educational and entertaining online content, visit ReconnectWithNature.org and the District's social media platforms.