Joliet officials await response from Pritzker on outdoor dining proposal
Other businesses would follow if Pritzker approves
5/18/2020, 9:24 p.m.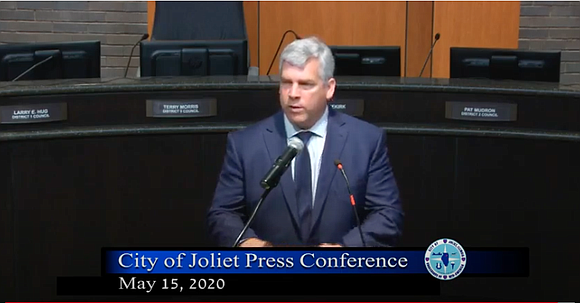 Restaurants in Joliet with outdoor dining or the ability to create outdoor dining could soon be able to do so under a plan unveiled Friday by Mayor Bob O'Dekirk.
The plan was submitted to Gov. J.B. Pritzker's office for approval last Thursday. O'Dekirk said Monday he had yet to get a response from Pritzker. The plan would not be acted upon until the city receives a green light from the governor, according to O'Dekirk. Other businesses and churches could also reopen with restrictions should Prtizker sign off on the full plan, according to O'Dekirk.
"We believe this is a responsible step forward, O'Dekirk said.
In outlining some of the particulars of the proposal, Corporate Counsel Martin Shanahan Jr., said it would apply to any restaurant with a full kitchen and a liquor license and would allow for outdoor dining with tables spread out 6 feet apart. Alcohol could be served only with a meal. The outdoor dining hours would be until 10 p.m. Sundays through Thursdays and 11 p.m. Fridays and Saturdays. Live music and bar service would not be allowed and except for restrooms and take-out, the inside of the restaurants would need to remain closed. Also customer-facing employees would be required to wear face masks. Customers would not be required to wear face masks. Disposable menus would be preferred.
The proposal also allows for restaurants without outdoor dining to convert up to 25 percent of the parking lot to outdoor dining with the same restrictions in place, according to Shanahan.
O'Dekirk said the plan is "reasonable" and falls within Pritzker's guidelines of social distancing. He added that the city wants to work with Pritzker on any re-openings so as to not put any restaurants at risk of losing their liquor licenses or risk the city losing out on federal funding that might become available. Prtizker has vowed to take actions such as those against any municipality that ignores the state's guidelines.

"I do not want to be in an adversarial position with our governor," O'Dekirk said. "We want to work in partnership with the State of Illinois."
The number of reported confirmed coronavirus cases in Will County increased by 52 on Sunday to a total of 4,415 and there was one additional death to bring that number of 241, according to Will County Health Department officials.
Mayors and other local elected officials in Will County have expressed concerns about Prizker's Restore Illinois plan, mainly that the county should not be in the same region with Cook County and the City of Chicago.
Mayors from New Lenox, Lockport, Homer Glen, Lemont, Mokena and Frankfort held a meeting this week to discuss their frustrations over Gov. J.B. Pritzker's Restore Illinois plan and want Pritzker to adjust the plan to enable Will County to reopen sooner.
"There is a very strong argument that the collar counties should be separated from Chicago and Cook County," New Lenox Mayor Tim Baldermann said.
Pritzker announced on May 5 the five-phase Restore Illinois plan that will eventually reopen the state. The plan breaks the state up into four "health regions," each with the ability to "independently move through a phased approach." The four regions are Northeast Illinois, which includes Cook, Will, DuPage, Kane, Kendall, Grundy, Kankakee, Lake and McHenry counties, North-Central Illinois, Central Illinois and Southern Illinois.
A number of area state legislators also want to see Will County removed from the Cook County region.
State Senator Jennifer Bertino-Tarrant (D-Shorewood) and her colleagues from Will County said the two regions have "unique challenges and should be addressed separately.
"Families and businesses are struggling. Most people I speak with understand the need for caution, but are prepared to work under new safety precautions," Bertino-Tarrant said. "If my district stayed in the same region as Chicago and Cook County, it would most likely be the last part of the state to open."
Rep. Natalie Manley (D-Joliet) is among those expressing their concerns. "I think there's a way to balance public health and the reopening of many businesses but it will take the cooperation of the community," Manley said. "The last thing we want is to crush the hospital system and endanger the health and safety of our first responders"
Area legislators pointe to the drastic difference in numbers of cases and deaths from the coronavirus as good reason to not tie the two counties together.
As of Thursday, they said, Will County had 4,000 positive cases of COVID-19 and 230 deaths. In comparison, Cook County had over 24,000 positive cases and 1,100 deaths. Furthermore, with social distancing at the forefront of keeping the virus asunder, Will County's population compared to Chicago's population as well as square miles clearly shows distinct differences between the two areas.
Bertino-Tarrant is working with the Will County Health Department to address the needs of local communities to be prepared if the governor adjusts the reopening plan based on the county's ability to offer alternatives.
"Any plan needs to address safety guidelines, hospital and ventilator capacities and PPE availability. Furthermore, it needs to be led by the Will County Health Department, who has the responsibility of monitoring and reporting," Bertino-Tarrant offered. "The legislators I have spoken to understand the needs to have a reasonable balance, with individual health concerns being the number one priority."
Rep. John Connor (D-Lockport) said he will work with Bertino-Tarrant and the Will County Health Department in hopes of gathering as much information as possible to determine if the area is ready to go to the next phase.
"I look forward to reviewing the relevant data with the Will County Health Department and other agencies to determine if Will County's current district placement is the best possible fit moving forward in this pandemic," Connor said.
Additionally, less than 700,000 people make up Will County, compared to the more than 5.15 million people who live in Cook County.
"Governor Pritzker is right that one must have a life to have a livelihood," State Sen. Pat McGuire (D-Crest Hill) said. "If local health departments have suggestions how residents of COVID-19 low-incidence areas safely can have both, I hope the governor will consider them."