Reported coronavirus cases in Will County increases by 155 on Sunday
Pritzker says state on track to move to Phase 3 of Restore Illinois plan by May 29
By Rex Robinson | 5/24/2020, 8:28 p.m. | Updated on 5/24/2020, 8:28 p.m.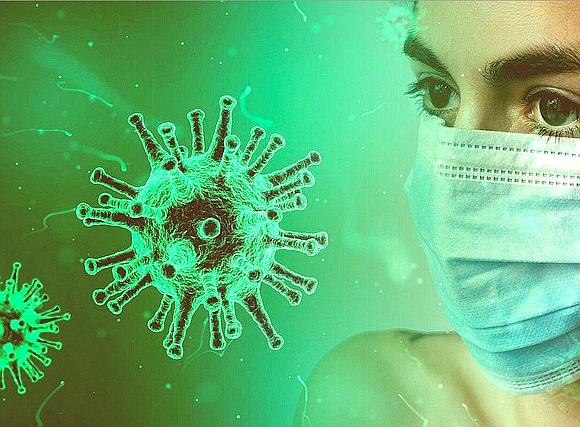 The number of reported confirmed coronavirus cases in Will County increased by 155 on Sunday to a total of 4,966 and the number of deaths from the virus increased by three to 255, according to Will County Health Department officials.
Find out more statistical data on the coronavirus in Will County by visiting https://willcountyhealth.org/novel-coronavirus-covid-19/
The total number of confirmed coronavirus cases reported in Illinois on Sunday to 110,304 and the number of deaths rose to 4,856, according to the Illinois Department of Public Health. Also as of Thursday, 747,921 people in Illinois were tested for the virus, IDPH officials said.
IDPH Director Dr. Ngozi Ezike attributed the number of cases in Illinois rising to more than 110,000, in part, to more testing being done throughout the state.
Ezike said during a press briefing last week that there were 3,914 people hospitalized with COVID-19, 1005 in Intensive Care Units and 554 on ventilators. That, according to Ezike, adds up to good news.
"This is the lowest number since we began capturing these numbers that we've had of COVID patients in the hospital," she said.
Gov. J.B. Pritzker during his report said all areas of the state are on track to advance to Phase 3 of the Restore Illinois plan by the May 29. He said for the past seven days the positivity rate has been just above 10 and the goal has been to get it below 20 for 14 days. Phase 3 of the plan allows for some lighter restrictions (see link to plan below).
The administration has been working to expand COVID-19 testing capability across the state. There are currently three state-run drive-thru testing sites in Evanston, Pekin, and Markham along with dozens of other testing sites at health centers in every region of the state. A list of testing sites, their contact information, and their eligibility requirements for testing can be found at https://coronavirus.illinois.gov/s/testing-sites
Gov. J.B. Pritzker earlier last week announced the five-phase Restore Illinois plan that will eventually reopen the state. The plan further breaks the state up into four "health regions," each with the ability to "independently move through a phased approach." The four regions are Northeast Illinois, which includes Cook, Will, DuPage, Kane, Kendall, Grundy, Kankakee, Lake and McHenry counties, North-Central Illinois, Central Illinois and Southern Illinois.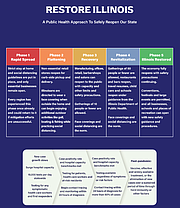 "Restore Illinois is about saving lives and livelihoods. This five-phased plan will reopen our state, guided by health metrics and with distinct business, education, and recreation activities characterizing each phase," Pritzker said in the Restore Illinois report. "This is an initial framework that will likely be updated as research and science develop and as the potential for treatments or vaccines is realized. The plan is based upon regional healthcare availability, and it recognizes the distinct impact COVID-19 has had on different regions of our state as well as regional variations in hospital capacity."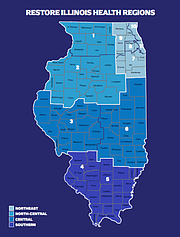 Each phase of the plan outlines the severity of how COVID-19 is spreading within any of the four regions. Phase 1 is "Rapid Spread" where the "rate of infection among those tested and the number of patients admitted to the hospital is high rapidly increasing. Strict stay-at-home and social guidelines are in place and only essential businesses remain open." According to Pritzker, "every region has experienced this phase once already, and could return to if it mitigation efforts are unsuccessful."