AG Raoul to host webcast with Pfizer official to discuss vaccine safety
Webcast starts at 10 o'clock this morning
By Rex Robinson | 2/25/2021, 6 a.m.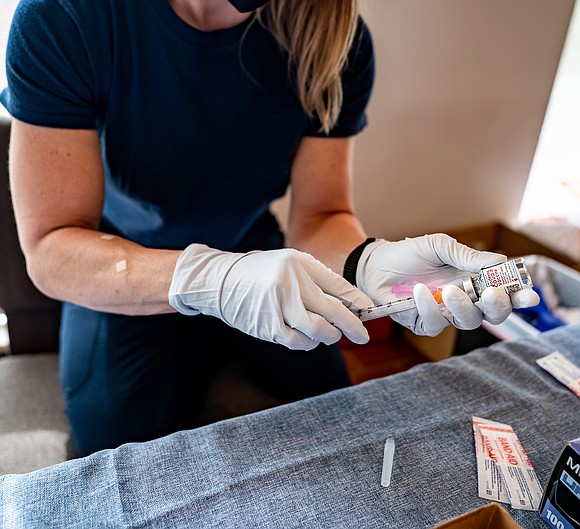 Attorney General Kwame Raoul will host a webcast this morning as part of Black History Month with an official from Pfizer to discuss the safety of the COVID vaccine. The Attorney General's office is partnering with the National Association of Black Journalists and Pfizer to host "The COVID-19 Vaccine and You: Overcoming Vaccine Hesitancy," a virtual information session featuring medical experts representing the state of Illinois and Pfizer, who will address common questions about the vaccine.
Who: Illinois Attorney General Kwame Raoul Lisa Coen, U.S. Public Affairs Lead, Pfizer Vaccines
When: 9 a.m. CST, Thursday, Feb. 25, 2021 Webcast begins at 10 a.m. CST
Where: https://multimedia.illinois.gov/ag/ag-live.html

The Illinois Department of Public Health on Wednesday reported 1,179,342 COVID cases statewide, an increase of 2,022 from Tuesday and 20,374 reported deaths from the virus, an increase of 44 from Tuesday. As of Wednesday, more than 3.02 million in Illinois have been vaccinated and more than 2.3 million have received both doses of the vaccine, according to the IDPH.
Meanwhile, President Joseph Biden held a somber ceremony at the White House on Monday to mark the COVID-19 death toll passing of 500,000.
"Each day, I receive a small card in my pocket that I carry with me in my schedule. It shows the number of Americans who have been infected by or died from COVID-19," President Biden said. "Today, we mark a truly grim, heartbreaking milestone: 500,071 dead. That's more Americans who have died in one year in this pandemic than in World War One, World War Two, and the Vietnam War combined. That's more lives lost to this virus than any other nation on Earth."
Congressman Bill Foster (D-IL) also issued a statement on the U.S. COVID-19 death toll passing 500,000 people:
"The magnitude of the loss of life our nation has endured over the past 12 months is immense, and we stand with everyone who is mourning the death of a loved one - including over 22,000 in Illinois alone," he said.
"The vaccines being distributed throughout the country are providing us the weapon that will defeat COVID-19, and it's thanks to the tireless work of scientists and researchers who developed safe and effective vaccines in record time.
"I urge everyone to get vaccinated as soon as its available to them and to continue to wear masks in public and practice social distancing to limit the spread of the virus. We will defeat this pandemic together."
The Illinois Department of Public Health on Sunday reported 91,725 people in Will County have received the COVID
vaccine and 23,676 had received both doses of the vaccine, representing 3.42 percent of the county's total population to be fully vaccinated.
The seven-day rolling average test positivity rate for Region 7 (Will and Kankakee counties) on Thursday, Feb. 18 was 4.5 percent.
While the COVID vaccines have rolled out slowly –not only in Will County, but throughout the nation – a "significant shipment" was delivered to the County early last week from both Pfizer and Moderna, according to Will County Health Department officials. Shipments are now slowing a bit due to the snow that has blanketed many parts of the country.
Late last week, County officials announced development of a vaccination program which utilizes a collaborative partnership between the county Health Department and over 40 different providers including local hospitals, EMS providers, pharmacies and other healthcare providers.
"The COVID-19 pandemic and our strategies to combat it are evolving quickly, almost daily," said County Executive Jennifer Bertino-Tarrant. "We understand people are ready and anxious to receive the vaccine and we want to assure everyone we are working very diligently to develop sound processes to get the vaccine out quickly and safely."
The vaccination program is based on recommendations and requirements from the Illinois Department of Public Health (IDPH), the Advisory Committee on Immunization Practices (ACIP) and the Center for Disease Control (CDC) and is a phased approach with set priority groups.
"The job we are undertaking is unprecedented, and we are trying to do it as fast as we can," said Sue Olenek, executive director of the health department. "We have over 100,000 residents who have given us their information on our on-line sign-up form, and yet there are so many more who want to receive the vaccine, which is wonderful.
"We have the volunteers and we have the sites for future clinics as we head into 1b, and we have already administered over 31,400 doses as we prepare to finish 1a. We have only begun the vaccination era, so we ask everyone to be patient. There is nothing we want more than vaccination shots into the arms of all those who desire it."
The County's Executive Office, Emergency Management Agency and Health Department are collaborating to best respond to the ever-changing guidance put out by the IDPH in its State Mass Vaccination Plan – the guiding plan for every county health department in the state.
The county received its first Pfizer vaccine on Dec.16 and is nearing completion of vaccinating all individuals in Phase 1a, which includes healthcare professionals and residents of long-term care facilities.
The County has now begun to contact and schedule appointments for individuals and entities in Phase 1b, which includes those 65 and older, first responders, educators, grocery store, postal and manufacturing workers. To find out more information about the phases, please visit the Illinois Department of Public Health's website at: https://www.dph.illinois.gov/covid19/vaccine-distribution.
To register for the vaccine, visit the website: www.willcountyhealth.org/covid-19/covid-vaccine. For those 65 and older without access to a computer or the Internet, call the Senior Services Center at (815) 723-9713.
In spite of the inconsistent vaccination deliveries, Brandy said the county ranked third in the state behind Chicago/Cook County and DuPage County in both the number of people administered the vaccine (29,764) and those who have received two doses (8,087) for complete vaccination.
According to the Illinois Department of Public Health's website, 1.17 percent of Will County's population (totaling 693,310) had received the vaccine.
"As 2021 starts off, virus numbers are going down and vaccine numbers are going up," said Alpesh Patel, Chief Epidemiologist with the Health Department. "However, this does not mean we can let our guard down. We have a long way to go. We must continue to practice actions to protect ourselves from the virus – wear our masks, follow social distancing, avoid large gatherings, and get the vaccine when it is our turn."
Andy Slavitt, Senior White House advisor for COVID response, said the rollout of the COVID vaccine is a "daunting task." Counties throughout Illinois and beyond are certainly seeing that as the demand for the vaccine is far greater than the supply.
Brandy said he's unsure how many vaccines were currently available, because when the vaccines are delivered to the health department, some remain at the department's clinics, while some are shipped to others who have clinics, such as Jewel-Osco pharmacies. "Once they have them, it's for their clinics and they are in charge of how they are dispersed to those within the Phase 1B group (persons aged 75 and older, non-health care frontline essential workers)," Brandy said.
No one at the health department is ever sure when vaccine shipments will arrive in any given week and "that's part of the problem," he added.
Many who are in the Phase 1B group, which includes teachers and others who work at schools, are having trouble scheduling appointments to get the vaccine simply because the demand is so much higher than the supply.
Due to longstanding disparities in health care system access and delivery, Black and Brown Americans have been disproportionately affected by COVID-19, including suffering a disproportionate number of deaths, according to state health officials. In Illinois, Black and Brown residents are more likely to die at a younger age from COVID-19. While the average white Illinoisan who has lost their life to COVID-19 died at age 81, that figure drops to age 72 for Black Illinoisans and 68 for Hispanic Illinoisans."
The biggest challenge for the Will County Health Department, according to Brandy, is asking the public and municipal/county officials for patience. "We cannot just set up clinics all over the place if we do not have the vaccine," he said. "And, even if the city of Joliet wants us to go here, here and here, we cover the whole county, not just Joliet."
Data collected on the health department's COVID sign-up information form is processed according to factors such as age, health condition and occupation. Those who qualify for an appointment are e-mailed with a few links to clinics they can choose from. The link to sign up for the vaccine ishttps://willcountyhealth.org/you-may-now-fill-out-this-survey-for-the-participation-list-for-covid-19-vaccination/.
Brandy encourages everyone to check with their employers, especially if they work for a school district. "They may be planning an employee clinic," Brandy said. Also, doctor's offices can apply to distribute the vaccines.