Nursing shortage hits area hospitals
Rex Robinson | 10/27/2021, 10:05 p.m.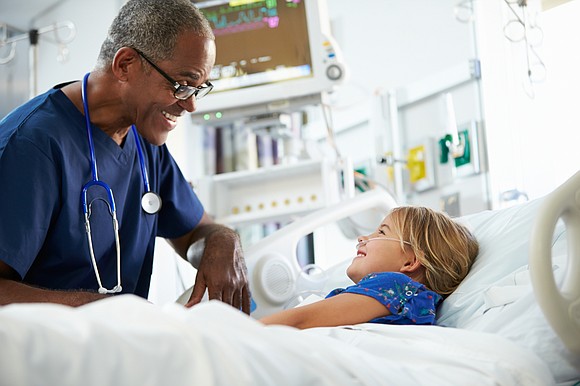 Across the country and in every state, including Illinois, there is a shortage of nurses. Hospitals are doing everything they can to fill nursing jobs to care for patients.
COVID-19's latest surge exacerbates long-standing forces driving nursing shortfalls, prompting an all-hands-on-deck scramble to maintain patient care, according to an article posted on the Association of American Medical College's website.
The article outlines how at a hospital system in Dallas, Texas, doctors were performing duties normally done by nurses and medical assistants, such as turning and bathing patients.
At UAMS Medical Center at the University of Arkansas for Medical Sciences (UAMS) in Little Rock, administrators have been recruiting new nurses with signing bonuses of up to $25,000, according to the article.
Illinois was facing an impending shortage of nurses even before the pandemic, and COVID-19 put additional stress on a labor force already stretched thin, according to an article on the illinoispolicy.org website. Gov. J.B. Pritzker issued executive orders in spring 2020 easing some of the restrictions to getting more medical personnel where they were needed, but the General Assembly should do more to address a long-term nursing shortage.
Faced with a shortage of staff to meet its needs, the city of Chicago outsourced some of its public health staffing to a nursing temp agency in Florida at a cost of nearly $5 million a year, according to WBEZ reporting. That was before the COVID-19 pandemic struck, which caused the demand for nurses to skyrocket across the country. There are 16 nurse vacancies the health department is trying to fill.
While filling those positions is slowed by a long onboarding process, Chicago's situation is indicative of a nationwide nursing shortage that has contributed to an increasing reliance on temporary staff, according to the Illinoispolicy.org article.
In Will County, at least one hospital is taking steps to make it easier and more attractive for those who wish to go into field of nursing.
Silver Cross Hospital has partnered with the Lewis University College of Nursing and Health Sciences to provide student loan repayment support of up to $27,000 for Lewis nursing graduates who pursue a nursing career at Silver Cross after graduation.
"This program will help to alleviate some of the concern over student debt for our nursing graduates and enable them to fulfil their professional goals of providing excellent healthcare with compassion as part of the Silver Cross team," said Dr. David Livingston, president of Lewis University.
Equal payments will be made directly to students over a four-year period which they can use to assist in repaying their student loans. For Lewis University graduates to qualify, they must:
• Complete their BSN degree at Lewis University
• Pass the NCLEX licensure exam
• Commit to a nursing career at Silver Cross for a minimum of four years
• Participate in Silver Cross' Student Nurse Assistant Program, complete a clinical rotation at the hospital, or work in a paid summer employment opportunity at Silver Cross.
"We have an exceptional nursing team at Silver Cross," said Ruth Colby, President and Chief Executive Officer of Silver Cross Hospital. "I'm delighted to partner with Lewis University and invite their well-trained graduates to our family."
Silver Cross Hospital in New Lenox has provided health care to southwest suburban residents for more than 125 years. In 2021, Silver Cross earned the "Triple Crown" for health care, earning an IBM/Watson 100 Top Hospitals ranking, a 5-Star Rating by the Centers for Medicare and Medicaid, and its 13th Straight A for Patient Safety from the Leapfrog Group, placing the hospital in a very exclusive group of U.S. hospital. With a sprawling 125-acre campus in New Lenox, five satellite facilities and partnerships with Chicago's leading academic medical centers, Silver Cross offers a full array of healthcare services for people of all ages.
Lewis University's College of Nursing and Health Professions has been developing nurses at all levels for more than 40 years. The faculty work with students to develop a compassionate, holistic approach to patient care, addressing physical symptoms while caring for the heart, mind and soul. Lewis University nurses become expert practitioners and innovative leaders who will transform practice in an increasingly complex healthcare system, according to Lewis University officials.
Nurses represented by the Illinois Nurses Association who work at AMITA St. Joseph's Medical Center, in Joliet, took to the picket lines this past summer after going on strike. While the strike was eventually settled, nurses picketed along the sidewalk in front of St. Joseph's Medical Center, 333 Madison St. AMITA Health for about a week.
According to the Association of American Medical College's website, health field leaders have been warning for years that hospitals face a nursing shortage. One widely cited study projects a shortfall of 510,394 registered nurses by 2030. The main reasons, according to such groups as the American Nurses Association, are waves of baby boomer nurses entering retirement age, an aging population that will require more medical care (and more doctors and nurses), faculty shortages that limit the capacity of nursing schools to accept more students, and more nurses moving away from direct patient care or leaving the health field altogether because of stress.