Joliet's Rock and Roll Museum first Hall of Fame inductees
Dave Allison | 9/1/2021, 10:03 p.m.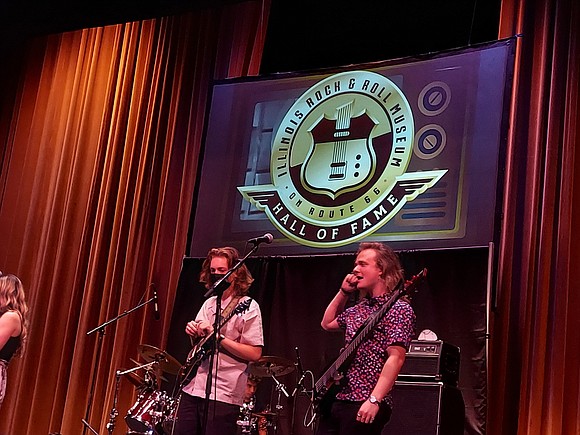 Chicago's famed Chess Records was among the first inductees into Joliet's Rock and Roll Museum on Route 66 Hall of Fame at the Rialto Square Theatre, downtown Joliet on Tuesday evening. Fans in attendance were able to listen to some of their favorite songs preformed by various bands throughout the evening.

The awards presentation kicked off with The Millennials, the Chicago based band formed in 2015, followed by Buddy Guy's son and daughter, Greg and Carlisle Guy, Mud Morganfield, son of Muddy Waters, Jimmy Sohns of the Shadows of Knight, and Ides of March, among others.
Chess Records was among the list of four Hall of Fame inductees for non-performers, including WLS Radio, Larry Lujack and Thirsty Whale, the River Grove club where inductee Cheap Trick regularly performed.
Other inductees included the legendary Muddy Waters; 82-year-old Blues wonder Buddy Guy, Buckinghams and REO Speedwagon. The awards ceremony concluded with a performance by Kevin Cronin, lead singer of REO Speedwagon.
"Tonight's event was a long time coming, said Museum founder and Chairman of the Board Ron Romero. "Like everyone else, our debut last year was postponed due to COVID. "We're excited to bring this premiere event to Joliet and honor Illinois' rich musical history."
The Joliet Rock and Roll Museum on Route 66 is set to open later this fall at 9 W. Cass Street, Joliet. For more information, visit roadtorock.org.
Dave Allison, entertainment reporter - ent@thetimesweekly.com