2021 US Open-Britain's Raducanu takes trophy and steps into pages of history
18 year old is youngest major winner since 2004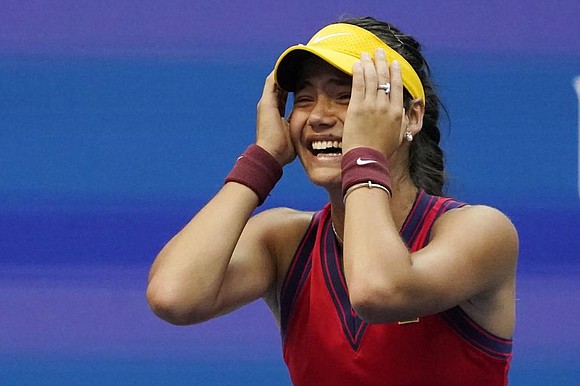 Commentator Chris Evert said it best. "They're like two bolts of lightning that landed here at the same time. We're not just watching the present of tennis. We're watching the future of tennis."
Emma Raducanu's win at the 2021 U.S. Open was the stuff of history and of legend. It was high drama, and for both players to have been teenagers, it was also legendary.
Raducanu is the youngest women's tennis play to win a major since Maria Sharapova upset Serena Williams in the 2004 Wimbledon final. She is also the first qualifier, man or woman, to go through to a finals win in the history of the Open Era. All this without dropping a single set along the way.
Billie Jean King said, "You're riding on the crest of a wave. So enjoy it." Those were the tennis legend's words to the winner of this year's Women's U.S. Open title, Emma Raducanu of Great Britain and the winner of the coveted trophy and $2.5 million in prize money. She made history as the first qualifier in the history of all tennis to win a major. She was also Britain's first U.S. Open winner since Virginia Wade, in 1977, who was present in the stands to applaud the victory. She beat 19-year-old Leylah Fernandez of Canada, 6-4,6-3 in a match worthy of a Hemingway novel.
Ranked 150th in the world just two weeks ago, Raducanu overcame a valiant last-ditch effort by Fernandez to hold off two match points at 2-1 in the second set, to snag the victory.
In the wake of her stunning victory, the champion did not forget her roots. Raducanu, whose father is from Bucharest. Romania, and whose mother is from Shenyang, China, sent a shout-out in fluent Mandarin to her fans in China on social media.