2021 US Open Men's Final-"I have a vision;" Djokovic telegraphs possible outcome
Semifinal winner downplays role in tennis history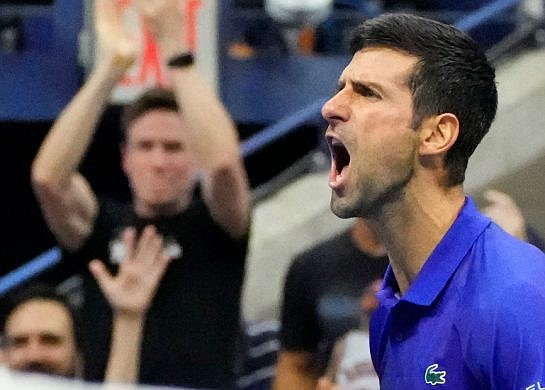 "I'm going to treat this match like it's the last match of my career," a laser-focused Novak Djokovic told a post-victory interview room of reporters who questioned him in the socially distanced media room and via Zoom from around the country and in his native Serbia. The conference was conducted in both English and his native Serbian.
His win over the 4th seeded German, Alexander Zverev, 4-6,6-2,6-4,4-6,6-2, to win the men's semi-final places him at the threshold of history.
Djokovic suddenly became truculent when asked by a reporter to expound on his feelings of possible achieving an historic Grand Slam by winning his 21st career win in Sunday's final against his nemesis, Danill Medvedev. "I'm just keeping it simple. I'm aware of the history. I'm trying to lock into what works for me. I isolate myself and gather all my energies."
Djokovic likened his predicament today to the similar situation faced by Serena Williams when she appeared to be on the verge of winning a record-tying 24th career win at the 2015 US Open. "I remember talking to Serena. She was very emotional. I can relate to what she was going through. I understand it now; why she wanted to avoid questions. At the end of the day, you have to go out on the court and deliver.
"There are expectations from everyone, including myself," he continued, before a moderator turned the session over to Serbian news reporters who were in queue online. "We all have different formulas that work for us as to how we prepare ourselves. I don't have more than what I said. I won't have more details."
Djokovic wanted to make one important point, and that is that he has a very clear vision of what will happen in Sunday's match.
A reporter asked Djokovic to confirm a report that the player was quoted as having a vision of holding the winning trophy," Djokovic responded emphatically. "Exactly that one. Holding the trophy."