George Wein, creator and co-founder of Newport Jazz Festival and Jazz Impresario dies at 95
Wein created a vehicle to preserve jazz for history and the future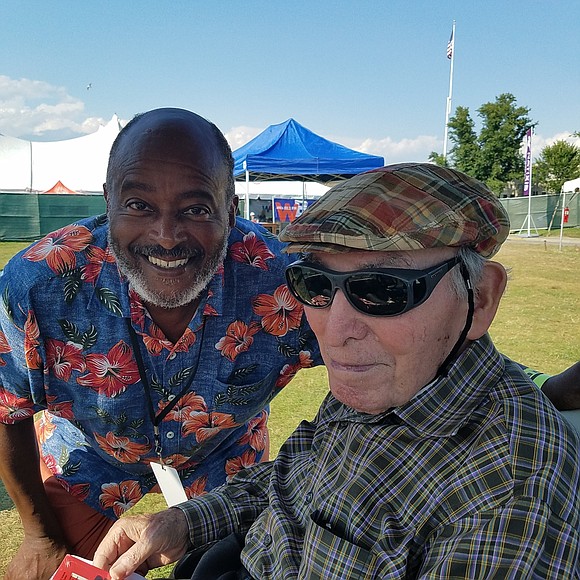 Newport Jazz festival was George Wein's 'baby.' What started as a music festival at the Newport Casino, a National Historic Landmark that became the home of the International Tennis Hall of Fame, in 1954, became one of the world's premiere, and now oldest, music festivals. In his later years, he became recognized for riding in his signature 'Wein mobile" golf cart around the festival grounds at Fort Adams, where the festival has reigned since 1981, quietly orchestrating from behind the scenes.
The first Newport Jazz Festival was the brainchild of Elaine Lorillard, who brought Wein, owner of Boston's famed Storyville jazz club, on board to run the festival, and her husband Louis Lorillard, the tobacco and cigarette baron, who financed it. The Lorillard Company would later launch the iconic Newport cigarette, the most popular brand of menthol cigarette in the world, and one of the first products to target the African American community and to recognize its tremendous buying power.
Stories surrounding the Newport Jazz Festival are the stuff of legend. Miles Davis reportedly told Wein at the start of the first festival that "you can't have a jazz festival without me," and the following year, presented his famous solo on "Round Midnight" at the 1955 festival. Duke Ellington performed his extended symphonic piece "Diminuendo and Crescendo in Blue," which scored a place in jazz history, in 1956. Jazz historians still marvel at saxophonist Paul Gonsalves' lengthy solo. Duke often said that he was "born at Newport."
Ever the innovator, Wein planned for the future, by creating the Newport Festivals Foundation, a non-profit entity that would function in perpetuity. He named the incomparable bassist and composer Christian McBride as Artistic Director of the Newport Jazz Festival in 2017.
In his memoir," Wein reflected, "I had no rule book to go by. I new it had to be something unique. I created it because I could never get enough jazz."
Neither can we George. Thank you for keeping it alive for all of us.